Former Nigerian leader, Chief Olusegun Obasanjo marked his 77th birthday today, with President Goodluck Jonathan leading an army of well wishers.
But the news is that today is not former President's Obasanjo's real birthday. He has adopted the day decades ago as 'an official birthday".
And he promised today, that he will sooner reveal his true birthday.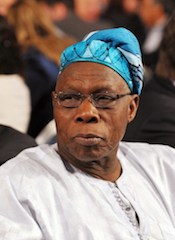 "I want to thank the president of this country because early this morning when I have finished my game of squash and I was preparing, a message came from President Goodluck Jonathan congratulating me on this day of my official birthday," he said.
The former President maintained that his birth has remained a blessing to Nigeria, Africa and the world at large.
"Kabiyesi Olowu wanted to let the cat out of the bag, but he was trying to wriggle out of it but he didn't quite succeed. Sooner than later, the cat will be let out of the bag by myself but one thing that is clear is that I was born. There is no doubt about that…
"I know and she (my mother) knew that I was born on Ifo market day. Don't ask me what year or month.
There are those of us like me who have no real record of birth like me. I want to thank God once again for what He has done in my life. Whether I know the exact date of my birth or not, I think God has made my birth glorious," Obasanjo esaid.
About a decade ago, Obasanjo's son, Gbenga had told TheNEWS magazine in an interview that his father does not know his real birthday.

Load more