Abiodun Onafuye/ Abeokuta
Former President Olusegun Obasanjo has stated that he is not a perfect being and people should not be expecting him to be upright all the time. The former Nigerian leader expressed appreciation to God for not taking his failures and shortcomings against him.
He spoke today at a programme to mark his 77th birthday held at Olusegun Obasanjo Presidential Library, OOPL, Abeokuta.
He maintained that he would have been consumed for his unworthy behaviour towards God but has been sustained by His mercy and blessings.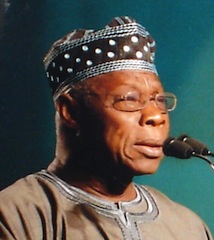 Obasanjo especially appreciated President Goodluck Jonathan for wishing him well on his birthday explaining that the President was amongst the first set of people that congratulated him early today.
"I have been very lucky for many things. At one occasion, I said God had never disappointed me and a journalist who thinks that he knows too much asked if I had disappointed God, I said of course.
"As long as I am living on flesh and blood, I am liable to be unworthy in the standard of what God expects of me. God has never taken my shortcomings, my failures and all that, He hasn't counted me because if he had, I would have been consumed",Obasanjo said.
Obasanjo further said," God has really sustained me with His grace, mercy, goodness and compassion. Not because of my goodness, but God has been gracious.
"This has been a marvellous event. It has touched my life, my heart, it has humbled me. When you see some of the things you have laid your hands on, or you have started without knowing they will end, or how they will grow like the children that participated in the debate, like even this auditorium where we are, like the whole issue of the presidential library, what should I say except to give thanks to God almighty who had made it all to happen before this day and up till this day and on this day.
"I am grateful to God and I cannot thank God enough for all He has done, for all that He is doing and all that I know He will continue to do in my life. To make me be a source of blessing to others, to make me be a participant in areas that are of relevance and importance in the life of this country, Africa and indeed in the world.
He expressed hope in Nigeria , despite its numerous challenges, saying that tomorrow will be better for the nation.
Among the dignataries that graced the occasion were the Governor of Ogun State, Senator Ibikunle Amosun, former Governor of Ekiti State, Engr. Segun Oni, former Inspector General of Police, Sunday Ehindero and former Governor of Oyo State, Chief Omololu Olunloyo.
Others were the Minister of Education Science and Technology from Sierra Leone, Dr. Minkailu Bah, Director, UNESCO Regional Multi-Sectoral Office for West Africa, Professor Hassana Alidou amongst others.
Highlight of the event was the presentation of prizes for the Center for Human Security Inter-collegiate and Inter-University Debate on Human Security in Africa and National School Farm Competition and Young Farmers' Competition.
A book titled 'Women, Youth, Culture and Development in Africa' was also presented and launched at the event.

Load more