Abiodun Onafuye/ Abeokuta
Former governor of Ogun State, in western Nigeria and a chieftain of the All Progressives Congress, APC, Chief Olusegun Osoba has described his appointment as the leader of the former governors' forum to the
National Conference as a challenge which he would uphold without any political bias and sentiments.
The Former Governors Forum, today in a statement announced that Osoba will lead five other former governors from the six geographical zones to the National Conference which begins on Monday in Abuja.
The other nominated former governors are: Alhaji Mohammed Goni(North-East), Ambassador Fidelis Tapgun(North-Central),Alhaji Saidu Barda(North-West),Chief Achike Udenwa(South-East),Obong Victor Attah(South-South). Osoba, the sixth former governor is representing the South-West.
The Forum had met on Tuesday in Abuja where it was unanimously agreed that, Osoba should lead the delegation
to the conference.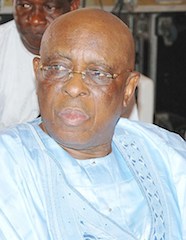 The Forum Chairman, Senator Jim Nwobodo in a statement said the appointment of the delegates was in accordance with the guidelines released by the Federal Government on the proposed National Conference, adding that the former governor's forum met and unanimously approved the membership.
Nwobodo described Osoba as a renowned journalist, an outstanding member of the Nigeria post independence leaders and a two time former Governor of Ogun State Chief Olusegun Osoba", the statement disclosed.
Osoba in a telephone chat said he felt humbled by his selection as the leader of the delegation, adding that, "from the list of my very senior colleagues. I am humbled and it is a challenge for me to ensure that we are not going there under that platform to discuss politics", he stated.
On what is going to be the position of the former governor's caucus, Osoba said that, "As I
said, we are not going to be political in our discussion. Because we are actually going there as statesmen who have had the opportunity of serving this country in one of the highest capacities".