Arsenal manager Arsene Wenger saluted Olivier Giroud after the French striker came off the bench and scored twice in Saturday's 4-1 win over Everton in the FA Cup quarter-finals.
Giroud has been used sparingly in recent weeks — amid stories about his private life in the British tabloids — and started on the bench against Everton, with Yaya Sanogo given a chance to lead the line.
With Romelu Lukaku having cancelled out Mesut Ozil's seventh-minute opener at the Emirates Stadium, the score was 1-1 when Giroud entered the fray in the 61st minute.
His first major contribution was one to forget, as his encroachment into the penalty area forced Mikel Arteta to retake a penalty that he had scored to apparently put Arsenal ahead.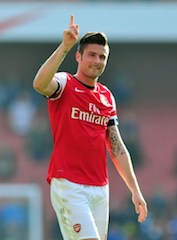 However, the Spanish midfielder made no mistake with his second attempt and Giroud fully atoned for his indiscretion by claiming a late brace.
The former Montpellier striker has now scored 18 goals in all competitions this term and Wenger hailed his contribution.
"It was important because he was on the end of things and shows that, when a player comes off the bench of that quality, it can make a difference," said Wenger, whose side are bidding to end a nine-year trophy drought.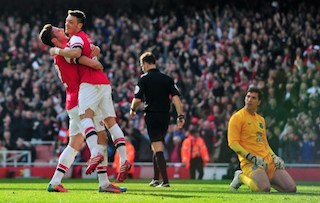 "He was on the bench for what reason? He has played many games. For the rest, he has come on and showed he can score goals when he comes on."
Wenger, whose side will seek to overturn a 2-0 deficit in the second leg of their Champions League last 16 tie against Bayern Munich next week, felt that the hosts were deserved victors.
"We had a quality performance from the first to the last minute against a good side," he said.
"Everton started the second half well and had a good moment in the game where they had the chance with (Ross) Barkley after, then we scored the second goal and then we controlled the game well."
Everton manager Roberto Martinez was left to rue a chance that Barkley fired over the bar shortly before Gareth Barry fouled Alex Oxlade-Chamberlain in the incident that led to the penalty.
"I felt the key moment of the game was going to be the second goal as we had made it a really uncomfortable game for Arsenal," he said.
"We had a great chance and, in nine out of 10 situations like that, Ross Barkley will hit the target.
"I can see why the referee gave the penalty, although I don't agree with the decision completely, because there is contact, but the ball is challenged (for) by both of the players.
"After that, we gambled a bit and the final scoreline does not reflect what happened in the game."