Boeing said Monday it has joined an official US team investigating the still-mysterious disappearance of a Malaysia Airlines 777 aircraft, feared to have plunged into the Gulf of Thailand.
Boeing said it would act as technical advisor to the US National Transportation Safety Board team already in Southeast Asia to offer assistance.
The Malaysia Airlines plane that went missing Saturday on a flight from Kuala Lumpur to Beijing was a Boeing 777, a model which up to now has seen only one fatal crash.
The popular family of long-range, wide-body, twin-engined planes have a solid safety record and have been among the world's most widely flown passenger jets since first entering service in 1995.
In the sole fatal crash involving the planes, a Boeing 777-200 operated by South Korea's Asiana Airlines skidded off the runway upon landing at San Francisco's international airport in July 2013, with three dead as a result.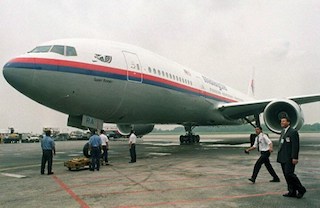 The Malaysia Airlines flight that lost contact with authorities Saturday was a Boeing 777-200, with 239 people aboard.
Boeing said in a statement that it "continues to offer its thoughts and deepest concern to the families of those aboard Malaysia Airlines flight 370, which went missing on March 8."