A Lagos socialite, Fred Ajudua, on Wednesday filed a fresh bail application before Justice Kudirat Jose at an Ikeja High Court.
Ajudua and one Charles Orie are being prosecuted by the Economic and Financial Crimes Commission (EFCC) for alleged financial scam.
Both men are standing trial for allegedly defrauding two Dutch businessmen, Remy Cina and Pierre Vijgen of $1.69 million (N252.8 million).
They were re-arraigned before Jose on Feb.5, following the transfer of the case from the former trial judge, Justice Joseph Oyewole.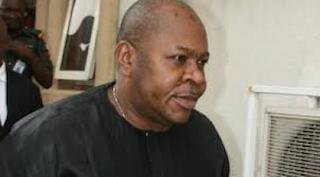 Ajudua was on Sept.10, 2013, granted a N50 million bail by Justice Ganiyu Safari of an Ikeja High Court, which he had yet to perfect.
Moving the application on Wednesday, Ajudua's counsel, Mr Charles Edosomwan (SAN), urged the court to grant him bail on liberal terms.
Edosomwan said there was overwhelming medical evidence before the court that Ajudua was suffering from a life-threatening ailment.
He argued that Ajudua was ready to face trial, contrary to the claim by the EFCC that he absconded, after he was granted bail on medical grounds in 2005.
"All actions taken by him (Ajudua) were not to evade trial but to stay alive.
"He was never arrested but he came back on his own," Edosomwan added.
He also tendered a medical report dated Aug.12,2013, issued by Dr Adebisi Ogunjimi of the Lagos University Teaching Hospital (LUTH), to support his submissions.
"There are photographs attached, showing the first defendant (Ajudua) urinating blood at the hospital.
"Granting him bail will enable him to access proper medical treatment, which was lacking in the prison system," Edosomwan said.
The judge, however, adjourned the matter till March 20, to hear the arguments of the EFCC.
Meanwhile, she permitted Orie to continue to enjoy the bail granted to him by Oyewole on July 27, 2004.

Load more