German Football legend Uli Hoeness, who is also president of powerhouse club Bayern Munich, was sentenced by a Munich court to three and a half years in jail for major tax fraud.
The verdict for cheating the German state out of 28.5 million euros ($39.5 million) spelled the likely end of the career of the former star player whose trial has captivated football-obsessed Germany.
Hoeness, 62, had admitted to hiding his wealth in secret Swiss bank accounts while obsessively "gambling" on stock and currency markets for years.
After the verdict, a visibly shaken Hoeness was allowed to walk out of the packed Munich courtroom, with his arrest warrant temporarily suspended while an appeal is pending.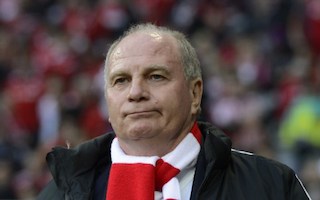 "We will naturally challenge the verdict," said his lawyer Hanns Feigen, who had argued Hoeness should escape prison or at least receive a suspended term because he turned himself in to authorities in January last year.
But the judge told Hoeness that the belated tax declaration "was by no means voluntary, as you perhaps are trying to convince yourself".
"It was driven by the fear of being discovered."
The judge pointed out that Hoeness had since 2009 failed to turn himself in and only delivered a hasty and flawed declaration in early 2013 when authorities and journalists were already on his case.
"As you have admitted yourself, you played for time," said the judge as a stony-faced Hoeness listened, biting his lip as the verdict was handed down.
Prosecutors, who had sought a five-and-a-half-year term, said they had not yet decided whether to also appeal.
– Bayern Munich board meets –
Interest has been huge in the case, with newspapers giving it front-page treatment and people lining up outside the courtroom from early morning to get a seat in the visitors gallery.
Tens of thousands shared their views on Twitter, both for and against the judgement. One of them, former pro footballer Hans Sarpei, tweeted: "A bad verdict for Hoeness, a good one for Germany's many millions of honest taxpayers."
Hoeness — who also co-founded a lucrative sausage business and has long been a conservative TV talk-show regular — had stayed on as president and board chairman of the European club since the scandal broke a year ago.
Bayern Munich made no immediate statement on the verdict but said its presidium and board would now "meet at short notice" and, in a timely manner but not on Thursday, announce possible consequences.
Munich daily Sueddeutsche Zeitung said club leaders "who have been too cowardly to tell the tax evader he is no longer tenable will now have to tell him, in case Hoeness after his conviction still doesn't understand it".
Corruption watchdog Transparency International said the club's decision would be "a litmus test for compliance culture in Germany" and that "an uncontrolled gambling addict can't serve as a role model as president of a popular sports club".