President Goodluck Jonathan on Thursday in Katsina directed the Armed Forces to comb the Rugu Forest and rid it of insurgents launching attacks in some parts of the North.
He gave the directive at a dinner reception organised for him by the Katsina State government as part of his two-day visit to the state, on the tail of recent attacks by Fulani gunmen in Maigora village in the Faskari Sabuwa Local Government Area of Katsina state.
The attacks led to the death of dozens of people. The Rugu Forest borders the four states of Katsina, Zamfara, Niger and Kaduna, and the neighbouring Niger Republic.
"It is unfortunate that the forest meant for economic purposes has turned to a hide-out and haven for insurgents who are launching attacks on the states,'' President Jonathan said.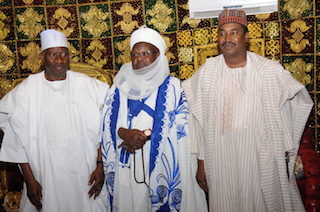 He also directed the National Emergency Management Agency (NEMA) to immediately swing into action in the delivery of relief materials to the affected communities
The gunmen on motorbikes killed at least 69 people and torched several homes in attacks on four villages, a local lawmaker told AFP Thursday, amid rising communal tension in the region.
The state's police chief, Hurdi Mohammed, who gave a lower toll of 30 dead, told AFP the violence was perpetrated by ethnic Fulani herdsmen who have been blamed for scores of deadly raids.
"So far, 69 bodies have been recovered from the attacks carried out by a large group of gunmen riding on motorcycles," said Katsina lawmaker Abbas Abdullahi Michika of the violence which first broke out late Tuesday.
"The victims include men, women and children. Rescue teams are still combing nearby bushes in search for more bodies," he told AFP.
He specified that 47 people were killed in the village of Mararrabar Maigora while seven deaths were recorded in both Kura Mota and Unguwar Rimi.
Another eight people were killed in Maigora, according to Michika.
Fulani leaders have for years complained about the loss of grazing land which is crucial to their livelihood, with resentment between the herdsmen and their agrarian neighbours rising over the past decade.
Most of the Fulani-linked violence has been concentrated in the religiously divided centre of the country, where rivalries between mostly Muslim herdsmen and mostly Christian farmers have helped fuel the unrest.
While there is no religious element to the conflict in Katsina, which is overwhelmingly Muslim, tensions between the Fulani and ethnically Hausa farmers have worsened in recent months. Residents have blamed the Fulani for several violent robberies this year.
Three people were killed earlier this month in Katsina when suspected Fulani gunmen opened fire at a checkpoint.
The police chief insisted the attacks were not linked to Islamist group Boko Haram, whose insurgency has killed more than 500 people in the northeast already this year.