Indonesia's main opposition party nominated the hugely popular governor of Jakarta, Joko Widodo, as its presidential candidate Friday, setting him up as the leading contender for July elections.
Surveys have shown that the guitar-loving Widodo, affectionately known nationwide as Jokowi, would claim the presidency by a long shot if nominated.
Widodo is considered a fresh face among a slew of candidates who have run multiple times and hark back to the era before democracy, many with military ties.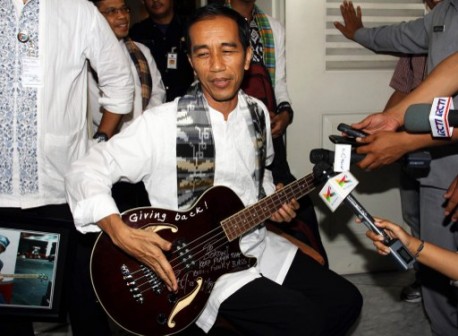 The Indonesian media has in recent months been eyeing every move within the Democratic Party of Struggle (PDI-P) to see if the former president and party chairwoman Megawati Sukarnoputri would step down for Widodo to run.
Puan Maharani, Megawati's daughter and a senior PDI-P official, read a statement from her mother saying that she supports "Joko Widodo as the presidential candidate from the Indonesian Democratic Party of Struggle".
Widodo, with his trademark flannel shirt and love of heavy metal bands including Metallica, has branded himself a man of the people and has earned the approval of many looking for a new style of leadership.
"I have been given a mandate by the chairwoman Megawati Sukarnoputri to be the presidential candidate from PDI-P and in the name of God the merciful, I am ready to fulfil it," Widodo told reporters in Jakarta.
His popularity has been meteoric, from mayor of a small Javanese city in the late 2000s to a surprise victory as Jakarta governor in 2012.
Indonesia, the world's biggest Muslim-majority nation with 250 million people, will hold legislative polls in April and elect a new president in July, with some 180 million voters eligible to take part.
President Susilo Bambang Yudhoyono, who won a landslide victory in 2009, cannot run again after serving the maximum two terms, and his ruling Democratic Party has lost popularity due to graft cases entangling its politicians.
Polls have shown that with Widodo as a candidate, his party would receive a major boost in the April legislative polls, in which it needs 20 percent of the seats in parliament or 25 percent of the popular vote to field a presidential candidate.
Widodo's main rival is Prabowo Subianto, a retired general who is accused of a range of human rights abuses.