The Nigeria Labour Congress (NLC), on Monday in Kaduna staged a peaceful protest at the state command of the Nigeria Immigration Service (NIS) over recent deaths recorded during recruitment into the service.
The protesters led by the NLC Vice-President, Mr Isa Aremu, arrived the NIS state command early in the morning and blocked its entrance and prevented the staff from gaining access to their offices.
The union members carried placards that contained various inscriptions and a letter of protest which they wanted to deliver to the state controller.
However, the officers on duty refused the workers access into the premises and explained that the controller was not on seat.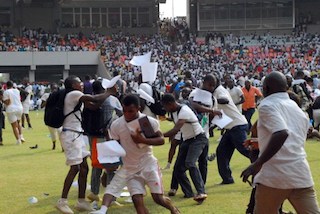 Aremu demanded an immediate compensation for the families of the 19 victims. The Minister of Interior confirmed that 16 people died.
He appealed to President Goodluck Jonathan to demonstrate that no life of an applicant will further be wasted at any recruitment centre.
He said, "the president should take action so as to prevent shameless exhibition of incompetence and non-service delivery by some of his ministers."
"We need a commitment that NIS will stop this serial killing of Nigerians," he said.
He also called for the resignation of Interior Minister Abba Moro, who on public television Monday confirmed that five women were among the seven dead and admitted the deaths were the result of "poor management of crowds".
"The most honourable thing for him is to resign," Aremu said, to cheers from the crowd.
In Lagos, Monsignor Gabriel Osu, Director of Social Communications of the Catholic Archdiocese of Lagos and Prof. Ishaq Akintola, Director of the Muslim Rights Concern (MURIC) condemned the deaths of the job seekers.
Osu described the organisation of the exercise as too poor, adding that the NIS should have had an accurate statistics of the candidates scheduled for the examination.
"We are in the 21st century and have all the gadgets and capacity to conduct an exercise of this magnitude in a civilised manner.''
Akintola, in a statement urged NIS to compensate the families of the victims who died during the stampede.
He said that NIS should apologise to the families of the victims and Nigerians; pay compensation to the families of the victims and conduct another online exercise as soon as possible.
The NIS conducted a recruitment exercise in 33 states, including Abuja.
The exercise was not held in Yobe, Adamawa and Borno States