Nigeria's Under 17 women's team, the Falmingoes have won their opening match in the FIFA world cup in Costa Rica, beating People's Republic of China, 2-1. The match took place at the Estadio Alejandro Morera Soto in Alajuela.
Fan Yuqiu scored midway through the second half to cut Nigeria's lead in half as People's Republic of China began to mount a comeback, but Onyinyechukwu Okeke performed admirably in goal for Nigeria as the African's back line held on to a 2-1 win.
Nigeria took the lead in the 21st-minute when Uchenna Kanu was the first to get an in-swinging corner kick but Peng Shimeng made a good initial save only to give up a rebound that fell to Rasheedat Ajibade, who made no mistake and broke the deadlock with an emphatic strike.
China were able to break into Nigeria's final third but Okeke was rarely tested. At the beginning of the second half the Africans looked to be the stronger side yet again, and in the 63rd minute their lead was doubled courtesy of a powerful header from Kanu.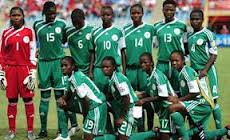 Only a minute later, however, China found their way back into the game when captain Fan Yugiu calmly finished Yan Liu's cross. The Chinese continued to press for an equaliser during the final 25 minutes but the Nigerian backline held firm. In a delightful display of respect and sportsmanship, the Chinese team bowed to the Nigerian bench after the final whistle blew.
China will look to earn their first points in Group D when they face Mexico on Wednesday, while Nigeria will look to secure a firm grasp atop the group when they take on Colombia.
Meanwhile Flamingoes' head coach Bala Nkiyu says his team will get better with time.
Nkiyu, whose team won their opening Group D match Sunday at t 2-1 against China, said he was still expecting more from his team.
"Performances get better as the games progress. I'm expecting my team to find their best form in their upcoming fixtures,'' he said in an interview with FIFA.com.
The former national senior women team assistant coach said his team had it tough against China because it was always not easy for teams to win opening matches.
"Opening matches are always hard and I thought our game today (Sunday) was really tough.
"However, I'm happy with the win and proud of the good performance my girls have just put in. China's good display in the second half didn't surprise me because this is the nature of this tournament,'' he said.
Nkiyu however told FIFA.com further that he was sure his team would get better with time.
"We played well today but, for sure, there is still room for improvement," he said

Load more