The President of the International Association of Athletics Federations (IAAF), Lamine Diack, said on Thursday that he would retire from the position in 2015.
Diack announced the plan at a luncheon he organised for the African members of the International Sports Press Association (AIPS-Africa) participating in the AIPS Congress in Dakar.
He said that by 2015, he would have served cumulatively for a total of 39 years at the top level of athletics from Africa to the world level.
"I have served enough; I need to spend more time now with my family, especially my grand children, many of whom want to see me more often.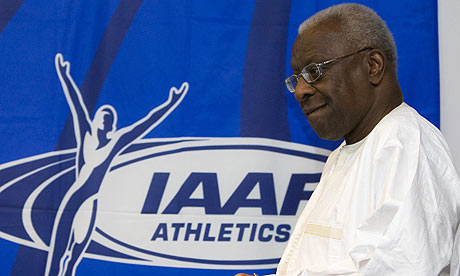 "I have also had a fulfilled time at the top of the sports. Africa is now making strong impact in the sports at the highest level.
"I served as secretary-general of athletics and football in Senegal before later becoming a minister of sports in 1971.
"I gave myself some tasks as an agent of change in the IAAF. At the time I joined the ranks from the African level, many European countries had five to six votes while Africa and other developing countries had just a vote.
"But today, the story is different as virtually all countries now have equal votes. As I leave, my immediate desires are to leave the association stronger," Diack said.
He said he had thoroughly enjoyed every moment of his time, saying: "I must say I achieved because we were united, particularly at the level of African, where I spent considerable time without holding elections.
"When I look back, I feel happy that I enjoyed tremendous time, because all my members gave me all the support that helped me to build bridges of understanding at the level of the continent.''