Malaysia said Thursday that two objects spotted by an Australian satellite in the Indian Ocean were a "credible lead" in the search for a missing Malaysia Airlines passenger jet.
"We now have a credible lead," Transport Minister Hishammuddin Hussein told reporters at Kuala Lumpur International Airport.
This "requires us overnight to verify and corroborate it," Hishammuddin said, adding that the overall search and rescue effort for Flight 370 would continue in the meantime.
Currently, there are 18 ships, 29 aircraft and six ship-borne helicopters deployed in the search along two corridors stretching from the southern Indian Ocean to South and Central Asia.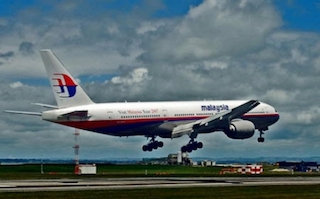 "Until we are certain that we have located MH370, search and rescue operations will continue in both corridors," Hishammuddin said.
"For families around the world, the one piece of information they want most is the information we just don't have: the location of MH370," he added.
Australia had said Thursday that two objects including one estimated at 24 metres (79 feet) long had been spotted in the Indian Ocean, in the "best lead we have" in the search for a missing Malaysian passenger jet.
Australian Prime Minister Tony Abbott first broke the news to parliament, saying "new and credible information" based on satellite imagery had come to light, but stressed that the link with flight MH370 had still to be confirmed.
"Following specialist analysis of this satellite imagery, two possible objects related to the search have been identified," Abbott said.
Four long-range surveillance planes have been diverted to look into the find in the southern Indian Ocean, about 2,500 kilometres (1,553 miles) southwest of Perth.
The Malaysia Airlines Boeing 777, carrying 227 passengers and 12 crew, vanished in the early hours of March 8 after veering drastically off course over the South China Sea while en route to Beijing.
Australian Maritime Safety Authority (AMSA) official John Young said the largest object sighted "was assessed as being 24 metres. There is another one that is smaller than that."
"The objects are relatively indistinct. The indication to me is of objects that are of a reasonable size and probably awash with water and bobbing up and down over the surface," Young said.
"But we need to get there, find them, see them, assess them, to know whether it's really meaningful or not."
A merchant ship was expected to arrive in the vicinity around 0700 GMT and the Australian naval vessel HMAS Success, which is capable of retrieving any debris, is some days away.
AMSA had earlier said it had "significantly refined" the vast area of the Indian Ocean that Australia was searching, following an analysis of the jet's fuel reserves.