A youthful grandmother, 67, has claimed that sperm facials are her anti-ageing secret – and she's made a video tutorial of it. Stella Ralfini from London said semen facials hold the key to her eternal youth.
'It's worth thousands and thousands, but it's free,' she explains in a YouTube video.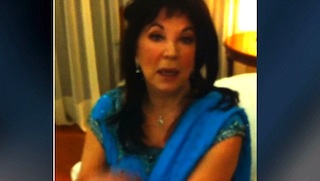 'All you need is a lover but if you don't have one, you know what to do. All you need to do is, every ten days or two weeks, just both have a good time, make sure he has a good time, and when your beautiful love-making session is over, you are going to scoop this amazing sperm mask up in your fingers, put it on your face, leave it for fifteen minutes and wash it off.'
She goes on: "I know some of you are thinking "What is she saying?!" but we have to assume that your lover is a healthy clean man and eats wells.
watch the video here:
British Stella, who describes herself as an author, life coach, couples counsellor and tantric guide, explains that she learned the bizarre anti-ageing trick during her time in India, where she was studying a lovemaking method called Tantra. She said she learned the trick from a woman in her sixties, who still looked youthful.
She said she has been using the sperm cream for 30 years.
.Reported by Mail Online

Load more