Arsenal left back Kieran Gibbs fell victim to a case of mistaken identity on Saturday when he was sent off against Chelsea for an offence committed by one of his team-mates.
Arsenal were already 2-0 down at Stamford Bridge in manager Arsene Wenger's 1,000th game in charge when Alex Oxlade-Chamberlain used his hand to push a shot from Chelsea winger Eden Hazard away from goal.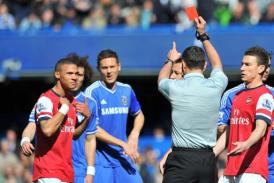 Referee Andre Marriner awarded a penalty, which Hazard subsequently scored, but showed a red card to the innocent Gibbs.
Television pictures appeared to show England midfielder Oxlade-Chamberlain telling the official: "Ref, it was me!"
But Marriner let the decision stand, and Gibbs was left to storm off the pitch.
By the 70th minute, Chlesea had netted five goals against Arsenal