Angry relatives of Chinese passengers on crashed Flight MH370 scuffled with security personnel outside Malaysia's embassy on Tuesday, demanding answers about the plane's mysterious and lonely demise in the stormy Indian Ocean.
But gale-force winds and huge waves halted the ocean search for wreckage from the Malaysia Airlines plane, deferring relatives' quest for closure with physical proof of the plane's destruction and the loss of its 239 passengers and crew.
Malaysian authorities — decried as "murderers" by the Beijing protesters — defended their decision to release new analysis of satellite data that determined the plane had plunged into the southern seas far off western Australia.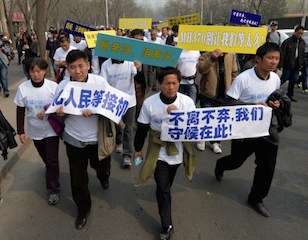 Mark Binskin, vice chief of Australia's Defence Force, underscored the daunting size of the area under inspection by air crews flying exhausting sorties out of Perth.
"We're not trying to find a needle in a haystack, we're still trying to define where the haystack is," he told reporters.
The Boeing 777 went missing on March 8 en route from Kuala Lumpur to Beijing, dropping off air traffic control screens in what has become one of the biggest mysteries in aviation history. Ever since, relatives in China have accused Malaysia of being deceitful and callous.
Around 200 Chinese relatives, some in tears, linked arms and shouted slogans denouncing the handling of the slow-burning drama, a day after Malaysian Prime Minister Najib Razak announced "with deep sadness and regret" that the plane had crashed in the ocean.
– 'Words can't ease pain' –
Scuffles broke out when uniformed security personnel tried to block some relatives from reaching reporters outside the Malaysian embassy in Beijing.
"Return our relatives," the family members shouted as uniformed police and plainclothes security protected the embassy's gates. Another slogan went: "The Malaysian government are murderers."
"My son, my son, return my son!" screamed Wen Wancheng, 63, as relatives behind him chanted slogans, raising their fists. Behind him, others bowed their heads and sobbed.
Chinese authorities normally keep a tight rein on any protests in Beijing, but occasionally allow people to vent their feelings, especially against foreign targets such as Japan.
The relatives delivered a written protest to the embassy before leaving.
Police had blocked traffic to allow the marchers through to the embassy, while at the mission itself scores of black-clad uniformed police officers kept the roads clear, their walkie-talkies abuzz.
Two-thirds of the passengers aboard the doomed flight were Chinese. China's government has demanded that Kuala Lumpur hand over the satellite data which lay behind Monday's sombre conclusion, provided by British company Inmarsat and verified by British air safety experts.
"We paid great attention to the Malaysian side's announcement of the conclusion, and we have called on the Malaysian side to provide us with evidence and information that can support their conclusion," foreign ministry spokesman Hong Lei said.
Malaysia Airlines chief executive Ahmad Jauhari Yahya defended the carrier against criticism that some relatives were given the devastating news via text message late Monday.
"Our sole motivation last night… was that the families heard the tragic news before the world did," he said. "There are no words which can ease that pain."

– Mystery may persist forever –
Ahmad Jauhari said the company had deployed more than 700 "dedicated caregivers" to support the next of kin, who have been given hotel accommodation as well as initial financial assistance of $5,000 per passenger with more on the way.
He said arrangements would be made to take relatives to the "recovery area", likely Perth from where the search is being coordinated.
Prime Minister Tony Abbott said they would be warmly welcomed, and officials indicated Australia's standard visa fees would be waived.
Najib gave no details on where the plane may have been lost, but Inmarsat said it was able to work out which direction it flew by measuring hourly satellite "pings" bounced from the plane.
Numerous sightings of suspected debris, by satellites as well as aircraft criss-crossing the southern Indian Ocean, had raised hopes that wreckage would be found. But none has been retrieved yet.
The US Navy has sent a specialised device to help find the "black box" of flight and cockpit voice data, along with a robotic underwater vehicle that can scan the ocean's depths.
Those efforts will be crucial in determining what caused the Boeing 777 to deviate inexplicably off course and fly thousands of miles in the wrong direction.
Malaysia believes the plane was deliberately diverted by someone on board but no hard evidence has emerged.
Paul Yap, an aviation lecturer at Singapore's Temasek Polytechnic, said if the black box is not found, "chances are we are never going to find out what really happened".
But even if it is found, the box may still yield nothing on the crucial question of what caused the flight to divert shortly after takeoff, as the cockpit voice recorder retains only the last two hours of conversation.