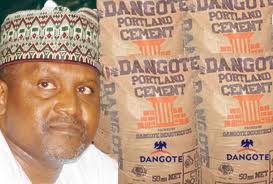 Dangote Cement, the largest capitalised company on the Nigerian Stock Exchange has posted a record profit after tax of N210.2 billion for the company and N201.2 billion for the group, according to its latest audited account released in Lagos.
In 2012, the cement manufacturing octopus made a PAT of N145 billion for the group and N146billion for the company. Gross profit stood at N243 billion for the company last year, as against N146billion earned in 2012.
The company reported an increase of about N100 billion in its turnover, from N298 billion for the group in 2012 to N386 billion last year. Earnings per share was N11.85, according to the group performance, while in 2012, each share earned N8.52.
The company has not indicated what it intends to pay as dividend to its shareholders.
The company, controlled by billionaire Chairman Aliko Dangote, has production capacity of 20.3 million tons across three Nigerian plants. It plans to expand into 13 other nations on the continent, bringing total capacity to more than 60 million tons by 2016.
"As the Nigerian cement market grew by a strong 15.6 percent, we managed even better growth," Chief Executive Officer Devakumar Edwin said in the statement. "We increased our margins despite continuing disruption to our gas supply." Nigeria's economy has expanded 6 percent a year since 2006, according to the World Bank.
Dangote Cement will invest about $1 billion on plant expansion this year, Edwin said at an investor conference in Lagos today. The company plans to complete building work on the Ibese and Obajana plants as well as projects in Zambia, Senegal and Cameroon from 2014 to 2016, he said.
The company said it would more than double its dividend to 7 naira a share, compared with 3 naira the previous year. The stock closed unchanged today in Lagos at 230 naira. Dangote Cement has gained 51 percent in a year, compared with a 13 percent gain on the 193-member Nigerian Stock Exchange All-Share Index.
.Additional report by Bloomberg