Alhaji Sa'ad Abubakar, the Sultan of Sokoto, on Wednesday met with President Goodluck Jonathan behind closed doors in company of some prominent leaders of Nigerian Supreme Council for Islamic Affairs.
The meeting was also attended by Vice President Namadi Sambo.
Though the Sultan refused to speak to journalists at the end of the meeting, Professor Ishaq Oloyede, the Secretary General of NSCIA however told journalists that they were in the presidential villa to protest the unfair slots allocated to Muslims in the ongoing National Conference.
He however said the President assured the delegation that his administration is committed to treating every member fairly without regard to religion or tribe and that there is no deliberate policy to short change Muslims.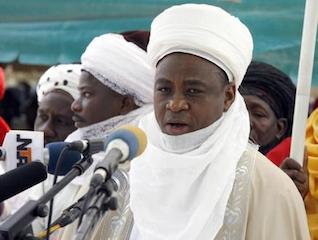 Oloyede said the protest was about the composition of the ongoing National Conference.
He said members of the delegation believed it was proper to protest to President Jonathan over the issue though they also believe that a leader can make mistakes.
"May be because you are not a Muslim, if you are a Muslim, you will know the feelings of the Muslims presently about the composition of the National Conference," he concluded.
"We are happy we consulted with the President, and he has given us reasons to re-assure the Muslims in Nigeria are not deliberately marginalised and he has asked us to convey the feelings of the government, the genuineness of the government, the fairness of the government to the entire populace," said Oloyede.