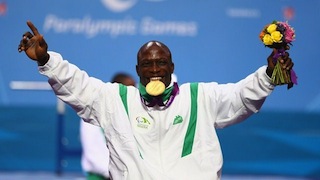 The Nigeria Para-power Lifting team today won its first gold medal at the ongoing International Paralympics Committee (IPC), Powerlifting World Championships in Dubai.
Samuel Ekeoma, Technical Director of the Nigeria Para-Power lifting Federation, made the announcement in a telephone interview with the News Agency of Nigeria (NAN) from Dubai.
Ekeoma said that Yakubu Adesokan lifted I81kg to set a new world record in the 46kg category of the male event.
He said that Adesokan has now broken his world record which he set at the 2012 London Paralympics Games, where he lifted 178kg and won a gold medal.
"Nigeria registered its first gold medal with a new world record set by Adesokan. He lifted I81kg to erase his previous world record of 178kg at the last Paralympics in London. We are all delighted," he said.
The director expressed confidence that the team would win more medals at the championships.
The championship is a prelude to the 2016 Paralympics Games in Brazil. The competition ends on 11 April.