Mali's first post-war prime minister has been replaced just six months into office after announcing the resignation of his entire government, a statement from the presidency said on Saturday.
President Ibrahim Boubacar Keita made leading economist Oumar Tatam Ly his prime minister in September as the troubled west African nation began to set up a government charged with turning the page on months of political chaos and war.
"The president of the republic… has brought to an end the duties of Prime Minister Oumar Tatam Ly, upon receipt of the resignation of the government of the republic," a statement from Keita's office read out on state television said.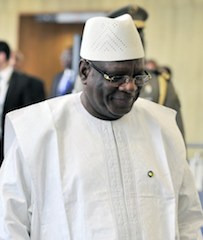 The AFP reported that Keita has appointed planning minister Moussa Mara to take over from Ly and asked him to form a new government, the statement said.
It gave no details about the reasons for the government's resignation.
Ly, a 50-year-old career technocrat and the son of a celebrated writer, was an adviser to the governor of the Central Bank of West African States (BCEAO), based in the Senegalese capital Dakar, before being appointed to the premiership.
He is the son of the late novelist and political activist Ibrahima Ly, who fled Mali after spending time in jail and complaining of being tortured under the regime of Malian military dictator Moussa Traore.
His mother, Madina Tall Ly, served as an ambassador under Alpha Oumar Konare, president of Mali during most of the 1990s.
Ly pipped a number of more obvious choices, including Tieman Coulibaly and Soumeylou Boubeye, both recent foreign ministers.
One of his stated priorities was to make good on the president's pledge when he was inaugurated in September to unite Mali and end endemic corruption.
Keita won a landslide victory in the presidential election in August last year after a campaign focused on law, order and ending the culture of impunity in public office.
His election in the first presidential polls since 2007 was seen as crucial for unlocking more than $4 billion in aid promised by international donors who halted contributions in the wake of a coup.
Army officers angry at the level of support they had received to combat a separatist Tuareg rebellion in Mali's vast desert north overthrew the democratically-elected government of president Amadou Toumani Toure on March 22, 2012.
In the chaos that followed, the Tuareg seized control of an area larger than France before being ousted by Al-Qaeda-linked groups who imposed a brutal interpretation of Islamic law on the local population, carrying out amputations and executions.
Their actions drew worldwide condemnation and prompted France to launch a military offensive at Mali's behest in January last year that ousted the Islamists.