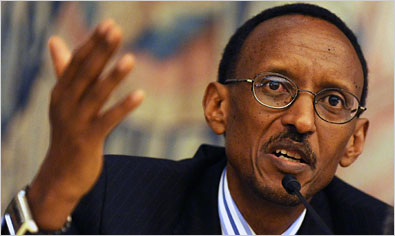 Rwandan President Paul Kagame took a thinly-veiled swipe at France today, saying it was impossible to "change the facts" about the genocide 20 years ago.
"The passage of time should not obscure the facts, lessen the responsibility, or turn victims into villains," he said in a speech during commemorations marking the 20th anniversary of the genocide.
"People cannot be bribed or forced into changing their history, and no country is powerful enough, even when they think they are, to change the facts… After all, les faits sont tetus (facts are facts)," he said, saying the final phrase in French and drawing loud applause in the national stadium.
Earlier today, France ambassador to Rwanda said he has been barred from attending events marking the 20th anniversary of the genocide, amid a major diplomatic row surrounding France's controversial role in the events of 1994.
"Yesterday night the Rwandan foreign ministry telephoned to inform me that I was no longer accredited for the ceremonies," the French ambassador, Michel Flesch said.
French Justice Minister Christiane Taubira pulled out of the events after Rwandan President Paul Kagame repeated his accusation of French "participation" in the murder of 800,000 ethnic Tutsis.
France, an ally of the Hutu nationalist government prior to the 1994 killings, has repeatedly denied any complicity in the genocide.