Dencia, the whitenicious cream producer and Nigerian and Cameroonian pop star has hit out at Lupita Nyong'o for her new contract with Lancome, accusing her of bowing to 'white people companies'.
In an angry tweet directed at the 12 Years A Slave star, she wrote: 'Oh @Lupita_Nyongo cln't talk abt the bleaching creams white people (Companies) make cuz the white man pays her, they own her!! [sic]'.
The comment comes just a month after Miss Nyong'o mentioned Dencia – who has been accused of marketing her own brand of skin-bleaching cream called Whitenicious – in a speech about learning to value the color of her own skin.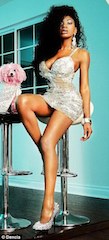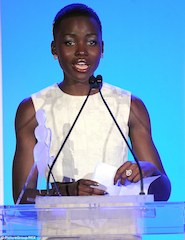 The pop star is no stranger to controversy; in a February interview with Ebony, she all but admitted that Whitenicious is intended as a skin-lightener, not as a cure for dark spots as it claims.
'When you take that picture and you put a picture of Dencia darker, this is what you're telling people – the product really works,' she said.
'And guess what? People really want to buy it. It's what it is. I don't really care.'
Given her defiant and hypocritical attitude, it's no surprise the fiery singer was angered when Miss Nyong'o called her out in a speech at Essence's Black Women in Hollywood event on February 27.
.Reported by The Mail online