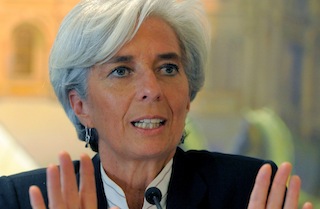 Emerging markets face increasing risks, the International Monetary Fund (IMF) has warned as it trimmed its outlook for the countries which have been the main driver of global growth in recent years.
Emerging and developing nations, which includes rising economic powerhouses China, India and Brazil, should register 4.9-percent growth in 2014 the IMF said.
That meant it cut its January forecast by 0.2 percentage points. "These economies are adjusting to a more difficult external financial environment in which international investors are more sensitive to policy weakness and vulnerabilities given prospects for better growth and monetary policy normalization in some advanced economies," the IMF said in its latest World Economic Outlook (WEO) report.
Emerging markets benefited considerably from the US Federal Reserve's monetary stimulus programme as many investors chose to seek higher returns available in develping nations.
In May 2013, when the Federal Reserve signalled its plans to wind down the stimulus programme a number of emerging economies and currencies were hit by a whiplash as investors pulled back funds on the prospect of higher returns in advanced markets.
The IMF's findings coincided with an assessment by the Organisation for Economic Cooperation and Development that big emerging economies are showing signs of slowing down, with the exception of China where the outlook is for stable activity.
The IMF said emerging markets were being hit by a tightening of financial conditions since its previous forecasts in October, while they remained stable in advanced countries.
Emerging markets are likely to continue to feel the effects of the switch in sentiment, which often revealed underlying problems in developing economies that had been masked by the easy money policies.
The WEO report's baseline projections assume that capital inflows to emerging market economies will remain lower in 2014 than they were in 2013, before recovering modestly in 2015.
It trimmed its 2015 growth forecast for emerging markets by 0.1 percentage points to 5.3 percent.
With emerging markets moving from being peripheral players to systematically important trade and financial centres that have accounted for two-thirds of global growth in recent years, the IMF said there is good reason to be concerned about a possible downturn.
It calculated that lower-than-expected growth in the G20 emerging market economies, if not compensated by an increase in US domestic demand growth) would lead to global growth that is, on average, roughly 0.3 percentage point less than baseline each year.
Those G20 emerging market economies include the so-called BRICS nations: Brazil, Russia, India, China and South Africa.
In this alternative scenario, the IMF warned that a weak recovery in some advanced economies "may not be enough to offset the impact of broader downside risks in major emerging market economies."
It said the shifting global financial environment "increases the urgency for emerging market economies to address macroeconomic imbalances and policy weaknesses."
For China, the IMF said "the economic policy priority is to achieve a soft landing on the transition to more inclusive and sustainable, private-consumption-led growth."
For India it recommended continued fiscal consolidation to lower macroeconomic imbalances.
Meanwhile South Africa needs to implement structural reforms to reduce "unacceptably high unemployment" which stands at 24 per cent, said the IMF.
It also urged countries to their exchange rates to adjust to changes in economic fundamentals.
Load more