The British minister overseeing future regulation of the press, Maria Miller, has quit her cabinet post following a row over expenses, Downing Street announced on Wednesday.
"Maria Miller has resigned as Secretary of State for Culture, Media and Sport," said a statement from Prime Minister David Cameron's office.
Miller had faced a week of pressure from her own Conservative party and the opposition over payments she had claimed linked to a mortgage.
Cameron had given her his backing over the issue, but in her resignation letter to the prime minister, Miller said the matter had now become a "distraction".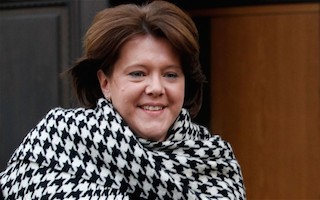 "It has become clear to me that the present situation has become a distraction from the vital work this government is doing to turn our country around," Miller wrote.
Cameron replied that he was "sad" at her departure but accepted her decision.
Miller had last week made a terse 31-second apology to parliament for providing limited information to an inquiry into her claims.
An independent inquiry found she should pay back £45,000 ($75,400, 54,600 euros), but that was cut to £5,800 by committee of lawmakers.
More than 140,000 people had signed an online petition calling for Miller to resign or pay back the larger sum.