Governor Willie Obiano of the eastern Nigerian state of Anambra on Friday in Awka swore in 19 commissioners and 10 Special Advisers. Same day, he also signed into law the 2014 budget of N145 billion.
The commissioners are: Dr Chinedu Emeka, Water and Public Utilities; Callistus Ilozumba, Works; Mrs Azuka Enemuo, Local Government and Chieftaincy Affairs; Chief Tony Nnacheta, Sports; Prof. Kate Emenugha, Education.
Others are: Anali Chude, Attorney-General and Commissioner for Justice; Mr Gregory Obi, Finance; Mrs Florence Chinwuba, Housing; Prof. Solomon Chukwu, Economic Planning and Budget; and Ifeatu Onyejeme, Trade and Commerce.
Also sworn in are: Ricky Chukwumelu, Women Affairs; Chukwuma Mbonu, Transport; Anthony Onyima, Information; Evaristus Ubah, Environment; and Stella Onuorah, Land.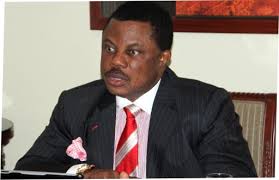 The others are: Norbert Obi, Special Duties; Dr Josephat Akabuike, Health; Nnamdi Meko; Agriculture; and Osita Obinwankwo, Science and Technology.
The Special Advisers are: Chief Martins Uzodike, Political Matters; Alex Ejesieme, Legal Counsel and Litigation; Anthonia Tabansi-Okoye, Special Duties; and O.I. Udemba, Chieftaincy and Town Unions.
The others are Amechi Okwume, Urban Development/Town Planning; Vivian Nwandu, MDGs; Amaka Ilobi, Public Works; Ngozi Okonkwo, IGR; Chief Chikodi Anagha, Security; and Onyekachukwu Ibezim, Youth Empowerment.
The oath of office was administered on the new commissioners by Mrs Tina Emekekwe, Solicitor-General of the state.
Obiano said he was confident that the commissioners and the special advisers would deliver, and warned that anyone found wanting would be relieved of his position.
Governor Obiano has also signed the State's budget of N145 billion for 2014 into law.
Christened: "Budget for the Family and Wealth Creation'', it showed an increase of N7 billion or 24 per cent over the 2013 appropriation.
Obiano said power, security, health, education, road and technology would receive priority attention.
The governor said that efforts would be made to encourage public/private partnership in order to attract more funds and investments to the state.
"It is my intention to implement this budget successfully and in so doing set the stage for more vibrant economy'', he said.