Swiss food giant Nestle has said that its chairman Peter Brabeck-Letmathe has been diagnosed with an illness requiring six months of medical care, but that would his duties.
"The Nestle Board of Directors was informed that Peter Brabeck-Letmathe, Chairman of the Board, has been diagnosed with an illness which is curable but requires periodic medical treatment over the next six months," a statement by the group read.
"This does not affect Mr. Brabeck-Letmathe's ability to carry out his role as Chairman of the Nestle Board of Directors and he will continue to fully exercise his duties during the treatment period," it added.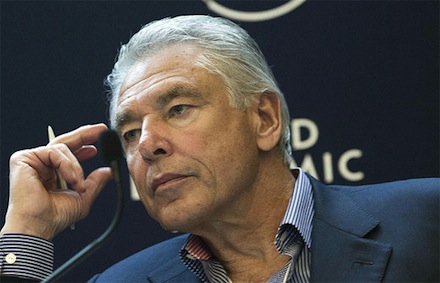 On 10 April, Brabeck-Letmathe led the group's three-hour annual general meeting. The 69-year old has repeatedly said that he wants to remain at the helm of Nestle until he is 72, the age limit set down by the group.
He has played a key role in turning Nestle, headquartered in the Lake Geneva town of Vevey, into a global behemoth in the food and beverage sector.
He joined the company in 1968 as a salesman in his native Austria before working in Latin America and then moving to its Swiss base in 1987.
He became executive vice president of the group five years later, becoming known for leading Nestle's branding strategy, which has been highly rated by the global marketing sector.
In 1997, he became the chief executive officer of the company. Having been elected vice chairman of the board in 2001, he then moved up to the chairmanship in 2005.
Business observers at the time questioned the wisdom of one individual holding the top posts of both chairman of the board and chief executive, and Brabeck-Letmathe relinquished the later post in 2008.