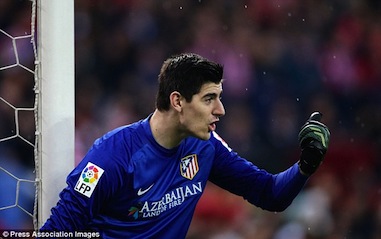 Thibaut Courtois has been given the all clear to face Chelsea after UEFA warned the Blues that their demand of £5million from Atletico Madrid to play the on-loan goalkeeper was against the rules.
UEFA have acted quickly to block off the Stamford Bridge club's move, before the two were drawn against each other in the Champions League semi-finals.
Cash-strapped Atletico would have struggled to find the money for the fee, but this has now been ruled out by the governing body.
A statement by UEFA read: "The integrity of sporting competition is a fundamental principle for UEFA. Both the UEFA Champions League and the UEFA disciplinary regulations contain clear provisions which strictly forbid any club to exert, or attempt to exert, any influence whatsoever over the players that another club may (or may not) field in a match.
The statement noted that: "It follows that any provision in a private contract between clubs which might function in such a way as to influence who a club fields in a match is null, void and unenforceable so far as UEFA is concerned.
"Furthermore, any attempt to enforce such a provision would be a clear violation of both the UEFA Champions League and the UEFA disciplinary regulations and would therefore be sanctioned accordingly.'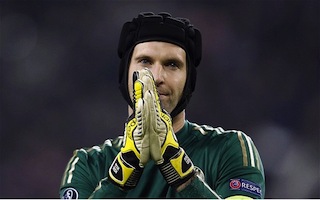 The Chelsea keeper has been on loan at Atletico for three seasons but the Madrid club's president, Enrique Cerezo, told Spanish radio after the quarter-final triumph over Barcelona they would be 'unable to pay' the added fees which were part of the loan agreement.
Courtois, 21, who will represent Belgium at the summer World Cup, has yet to play for Chelsea, although he has been earmarked as Petr Cech's successor.
He has impressed in Atletico's bid for a Champions League and La Liga double after joining Chelsea from Belgian club Genk in 2011 when just 18.
The other Champions League semi-final sees Real Madrid face holders Bayern Munich. 
Jose Mourinho, meanwhile, will wait for the FA's written reasons before deciding whether or not to appeal against an £8,000 fine imposed yesterday for improper conduct.