Abiodun Onafuye/Abeokuta
Slain businessman, Chief Felix Adetola Okuneye was today laid to rest in his hometown in Ijebu-Igbo, Ijebu North local government area of Ogun State.
The deceased popularly called Tola Furniture was killed last week Sunday inside St.John Anglican Church, Oke-Sopen, Ijebu Igbo by unidentified assassins.
Just before Okuneye was laid to rest, Bishop of Ijebu North Diocese, Rt.Rev.S.G. Kuponu and Rev. Remi Afosi of the Ibadan Diocese said that the late Diocesan Patron, Anglican Youth Fellowship, Ijebu North Diocese came, saw and conquered. Adding that for those who killed him, people should be praying for them for God to touch their hearts and lead them to the right path.
The Christian wake-keep was held yesterday at the deceased residence at Shokas area, Oke Sopen, Ijebu Igbo. People from all works of life, groups and associates spoke extensively on the life of the man, describing him as a no-nonsense man.
The funeral service was held at the same church where he was killed last week with both Muslims and Christians groups mounting their banners and in various attires to pay their last respect to the Akogun of Oke Sopen in Ijebu Igbo.
Prince Segun Adesegun, deputy governor of Ogun State, who was at the church service declared that Ijebu North and Ogun State have lost an industrious son.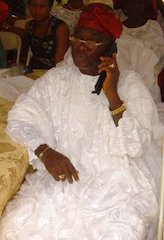 "I am short of words and all of us in Ijebu North are mourning right now. Akogun Tola was a great man,a pacifist and lover of people. We shall all miss him ," he said.
Senator Adegbenga Kaka described him as a true son of Ijebu and Ogun State. "He was a man loved by all because of his doggedness and fearlessness. He was the only man that this town will forever live to remember for the great role he had played in this town and Ijebu North as a whole. May his soul rest in peace."
Okuneye, was born into a Muslim family but later converted to Christianity. But all his life, he supported both religions.
Born 23 May 1945, he attended Moslem Primary School, Igbaire and Local Authority Secondary Modern School,Oke-Agbo, both in Ijebu Igbo.
After obtaining a proficiency certificate of apprenticeship in Cabinet Making and Joinery in 1966, he proceeded to Trade Centre, now Yaba College of Technology, where he obtained the City and Guild of London certificate in the same vocation in 1969.
After working for two years,he established his company,Tola Furniture and Cabinet Industries Limited in Ijebu Igbo and the company since then has become an household name in furniture making,not only in the state,but nationwide.
Until his death,he was a member of the Board of Trustees,Ijebu Igbo Communiry Development Association.
Akogun Felix Adetola Okuneye was appointed as a "Justice of Peace" by the Ogun State government in the year 2003.
Among his chieftaincy titles are:Akogun of Oru-Ijebu,Otun Asiwaju of Ijebu Igbo,Otunba Arobadara of Oke Agbo,Ijebu Igbo and Otunba Pagunpote of Ogbere-Ijebu in Ijebu East local government.
He was survived by six wives and over twenty children and many grandchildren.