Suspected Boko Haram gunmen on Sunday killed at least 60 people in Nigeria's troubled Borno state close to the border with Cameroon, a local official said.
"The attackers, who are no doubt Boko Haram insurgents, attacked Amchaka and nearby villages this morning, hurling IEDs (improvised explosive devices) into homes and setting them on fire," Baba Shehu Gulumba, Bama local government administrator said.
"They then went on a shooting spree, opening fire on confused residents as they tried to flee, killing 60 people and injuring several others," Gulumba said from Maiduguri, the state capital.
The attackers arrived Amchaka and neighbouring villages in Bama district in trucks, and on motorcycles and two armoured vehicles, shooting residents and torching homes, he said.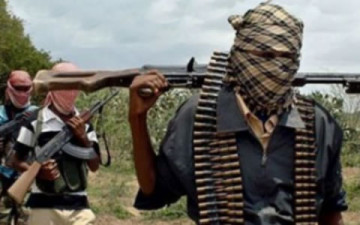 Other local sources also confirmed the attack but did not give a death toll.
The assailants vandalised boreholes, the only water source for the villagers, Gulumba added.
The attacks have prompted a mass exodus of people from villages in the area.
Following a spate of brutal attacks on schools and universities, around 400 students in the state had boycotted university entrance exams on Saturday, officials said.