Kazeem Ugbodaga
Heavy rainstorm wreaked havoc in Lagos on Sunday as properties worth millions of naira were destroyed in some parts of the state.
At least, 15 buildings were reportedly damaged by the rainstorm at Ebute Metta area of Lagos, southwest Nigeria. The affected structures are located at Ondo, Abeokuta, Tapa, Osholake and Bola streets of Ebute Metta.
Roofs of several houses were also blown away as the rainstorm struck. On Apapa road, a roof fell on vehicles parked on Obadare Church at Olokodana.
At Osholake, Ondo, Abeokuta and Tapa streets, the storm was reported to have damaged at least 10 vehicles.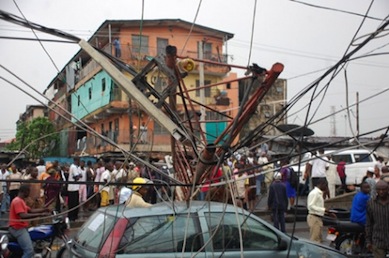 Emmanuel Ajayi, a resident on Abeoukta Street, said his family were getting ready to go to church when the rainstorm started. "It is shocking that I am homeless within a twinkle of an eye. I woke up and decided to prepare for church but suddenly the sky was dark and wind started blowing. Before I knew it, the wind blew off my roof. The rain destroyed my properties but I thank God my family was not hurt," he lamented.
Dr. Femi Oke-Osanyintolu, General Manager, Lagos State Emergency Management Agency, LASEMA, said the rainstorm did occur in some parts of Lagos State, but he refused to give details.
Ibrahim Farinloye, spokesperson, National Emergency Management Agency, NEMA, said the rainstorm caused substantial damage in Ebute Meta, stating that the agency was assessing the damage and would come up with relief packages.