Ibrahim Lamorde, Executive chairman of the Economic and Financial Crimes Commission, EFCC, today disclosed that the Commission has recovered N4.3billion from suspects involved in the petroleum subsidy scam.
He said this on 15 April when the management of the Petroleum Products Pricing Regulatory Agency led by its Executive Secretary, Farouk Ahmed paid him a courtesy visit in his office in Abuja.
The EFCC boss said the collaboration between the two agencies was pivotal to the Commission instituting court cases against 13 oil marketers indicted in the investigations in the subsidy regime.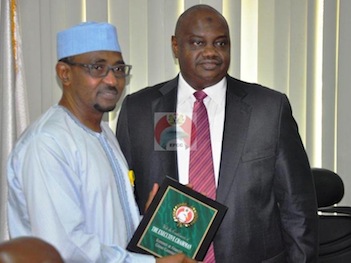 He called for a sustained partnership between the agencies in order to sanitize the petroleum industry, adding that such collaboration was imperative as the Commission will regularly seek for information and documents from the PPPRA.
He noted that the EFCC may also pressurise staff of PPPRA by requiring that they testify in court or provide evidence for the prosecution of those involved in subsidy scam. "I know pressure will be put on your staff. Please bear with us. It is because of the need to sanitize the country," he said.
PPPRA chief executive, Farouk Ahmed thanked the EFCC chairman for receiving his team. He said the visit was to further consolidate the relationship between the EFCC and PPPRA.
Ahmed who commended the EFCC for its effort to rid the country of economic and financial crimes said he was looking forward to a more effective collaboration between the two agencies.
Ahmed requested the Commission to detail a staff to the organisation to ensure seamless collaboration.
Among those who accompanied the executive secretary on the visit were Moses Mbaba, assistant general manager, Administration; Victor Shidoil, assistant general manager, Operations; Alison Tekena, Assistant general manager, Corporate Planning and a host of other top management staff.