Indigenous telecommunications company, Globacom was adjudged the Outstanding Telecoms Brand of the Decade and Brand of the Year at two major award events in Lagos.
The telecom giant received the awards at the Marketing Edge Legacy Awards and Champion Newspaper 2014 Awards which attracted top government officials, corporate players and socialites.
According to the citation for the Outstanding Telecoms Brand of the Decade, Globacom's choice was a product of painstaking review and assessment of the contribution of telecommunications to the growth and prosperity of the marketing communications industry.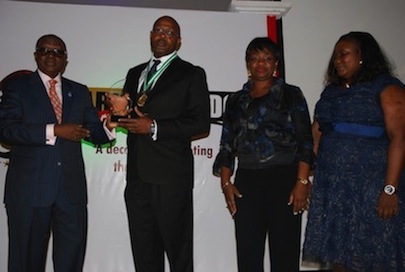 A statement by the organisers read: "Among the telecommunications service providers considered, your organisation stood head over shoulders in the crowd. You were unanimously voted as the outstanding telecoms brand in Nigeria's corporate milieu," it said.
Receiving the award on behalf of Globacom at the Federal Palace Hotel in Lagos, the company's Head of Operations, Bisi Koleosho said Globacom is driven by the passion to add deeper value to the lives of Nigerians.
"Beyond just building a network that gives you the benefit of making calls, Globacom is in the business of developing products that will place opportunities at the finger tips of subscribers. We are optimising our network infrastructure to improve quality of basic telecom services and also designing revolutionary Value Added Services that make life and business easier for subscribers," he said.
At the Champion Newspaper's 2013 Awards held at Intercontinental Hotel where the company emerged Brand of the Year, Publisher of Champion Newspapers, Dr Emmanuel Iwuanyanwu, said Globacom was honoured for making a significant difference in the telecoms industry in the past year.
"The Champion Award was instituted to identify and celebrate those who have effectively utilised any and every opportunity to lead at one level or the other for the good of our people." He observed that Globacom had consistently supported efforts to empower the people Nigeria and accelerate national development.
Lagos State Governor, Babatunde Raji Fashola, who was Chief Host of the ceremony noted that it was an honour to celebrate some of our country's best and finest. "The kind of services and selflessness the awardees including Chief Sunny Odogwu and Dr Mike Adenuga's Globacom have continued to render to our country makes them deserving of this honour," he said.
Chairman of the event, House of Representatives Speaker, Aminu Tambuwal, said in his address, read on his behalf by a member of the House, Victor Ogene, that Champion Newspaper had contributed remarkably to the development of the country.
The Brand of the Year Award was presented to Globacom by the Director General of the Nigeria Tourism Development Corporation, Sally Mbanefo.