Guinea-Bissau's presidential election will go to a second round between the main party's candidate and the army-backed hopeful, the election commission said Wednesday, after no one secured a majority in the crunch poll.
Jose Mario Vaz of the African Party for the Independence of Guinea-Bissau and Cape Verde (PAIGC) came first in Sunday's ballot with 40.9 percent of the vote while runner-up Nuno Gomes Nabiam garnered 25.1 percent.
Almost three-quarters of Guinea-Bissau's eligible voters turned out for the watershed elections, called to turn the page on years of political instability and military violence.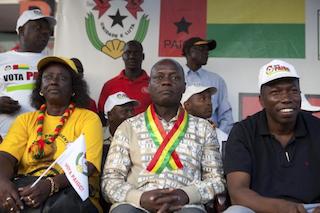 The election, which marked the first presidential and parliamentary polls in the west African nation since a military coup in 2012, will go to a run-off between the two leading candidates scheduled for May 18.
Guinea-Bissau has seen four decades of chaos marked by a series of mutinies since it won independence from Portugal, and commentators have called for the new regime to finally bring the military into line.
In recent years, the country has been plagued by corruption and drugs, and since the latest coup, has been stagnating under the rule of a transitional government backed by the all-powerful military.
Chronic volatility has fanned poverty in a country with few resources other than cashew nuts and fish.
The anaemic economy has fuelled corruption, but also attracted South American drug cartels which have turned it into a cocaine trafficking hub.
Vaz, a former finance minister and Nabiam, a civil aviation engineer, were among 13 politicians seeking to convince the people that they could stand up to the generals and reform the armed forces.
Independent candidate Paulo Gomes, 50, came in third on 9.7 percent while 7.3 percent of voters endorsed Abel Incada, a member of the Party for Social Renewal, the grouping of former president Kumba Yala, who died earlier this month.
The PAIGC, which led the 1963-1974 war of independence against Portugal, won parliamentary polls running alongside the presidential vote, gaining an absolute majority of 55 seats in the 102-member legislature.
Vincent Foucher, an analyst at the International Crisis Group (ICG), said the turnout "showed that people said 'no' to military coups" and "that there is a real hope to see new people leading the country".
But voters have voiced fears that Guinea-Bissau is not immune from another coup, with some fearing further unrest after the publication of results if the winning candidate is not acceptable to the army.