Namadi Sambo, Vice President of Nigeria has said that the Peoples Democratic Party (PDP) will win the gubernatorial polls in Ekiti and Osun in the forthcoming governorship election slated for 21 June and 9 August, respectively.
He said this at the inauguration of the National Campaign Committee for the two states in Abuja on 16 April.
The committee, which was inaugurated by Alhaji Adamu Mu`azu, PDP National Chairman is comprised of 34 and 42 members, respectively.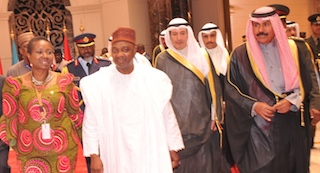 The vice president, who heads the committees for both states, said that PDP would reclaim the entire South-West in the 2015 general elections.
He maintained that Ekiti and Osun were PDP states, but were somehow stolen from the party by the opposition.
Sambo, who spoke on behalf of members of the committee, assured that the principle of one man one vote, and transparent election would be observed in the Ekiti and Osun governorship elections.
He said that the committee would do everything possible to ensure that it delivered Ekiti and Osun to PDP, adding that party would surely succeed.
"By inaugurating us today, we will go to the war front and bring back our stolen mandate. Everybody knows that Ekiti belongs to PDP but people used different ways to take it from us. Osun is PDP state but it was stolen from us.
"The end of stealing has come. There will be free and fair election,'' the vice president assured.
Mu' azu while inaugurating the committee, described it as the highest level campaign committee of the party and urged the committee members to put up good campaign programmes and strategies for the general elections and for the specific states.
Ayo Fayose, PDP candidate for the Ekiti governorship election, thanked the party leadership for allowing transparency to reign during the state`s primaries.
He described the forthcoming election in Ekiti and Osun as 'game changers', adding that it would be the beginning of change of power in South-West.