Troops patrolled Salvador de Bahia on Thursday after a wave of looting and murder erupted amid a police strike in this Brazilian city that will host World Cup games.
At least 19 people were murdered in the first 24 hours after police walked out late Tuesday, a figure well above normal in this northeastern city already plagued by crime, authorities said.
The strike also prompted looters to pillage pharmacies, supermarkets, electronics stores and shoe shops in a stealing frenzy that lasted from Tuesday to early Thursday.
At least 50 people have been arrested, officials said.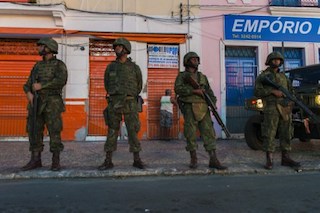 Hundreds elite police units and soldiers armed with assault rifles guarded the streets after President Dilma Rousseff ordered their deployment.
"I authorized the deployment of federal troops to support public security and guarantee the peace in Bahia," Rousseff wrote on Twitter.
"It is unacceptable that the security of Bahia's population be at risk."
The defense ministry said 2,500 soldiers have been mobilized and more could be deployed.
Rousseff also authorized the deployment of 250 national elite police officers, a figure that could be boosted to 5,000 men "until normal conditions are re-established," the ministry said.
A Bahia state court declared the police strike illegal and imposed a daily $22,000 fine against the union until the officers, who are demanding a pay increase, return to work.
Isaac Jorge, the Bahia state government spokesman, said the police strike was "illegal, unconstitutional and is harming the population."
Bahia police went on strike for 12 days in 2012, sparking a wave of violence that left 157 people dead.
Salvador, Brazil's third-largest city, is among the 12 cities that will host games during the June 12-July 13 World Cup hosted by Brazil.
The murder rate in the state of Bahia soared by 400 percent between 2000 and 2010 to 41.1 murders per 100,000 inhabitants, according to the Applied Economics Research Institute.