A former chairman of the National Electoral Commission of Nigeria, during the Babangida era, Professor Okon Uya, is dead. He was aged 72.
Uya, a Professor of African-American History and one-time Nigerian Ambassador Extraordinary and Plenipotentiary to Argentina, died on Thursday at the University of Calabar Teaching Hospital (UCTH).
Uya had served as NECON chairman after Babangida dismissed Professor Humphrey Nwosu, following the crisis triggered by the annulled June 12 1993 presidential election, won convincingly by Chief Moshood Kashimawo Abiola.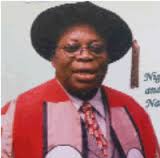 Mr Edet Uya, a staff of the University of Uyo who is a sibling of the deceased, confirmed the death of his brother.
"I feel very bad. He has been my mentor, but I thank God for everything. He gave his life to God before he passed on.
"Now, we have to give him a befitting burial as he was an international figure. He died this (Thursday) afternoon, even though he has been down for over two weeks.
"He spoke with the wife this (Thursday) morning before he gave up. He died at the Teaching Hospital. We had wanted to send him abroad, but we wanted his condition to stabilise first," he said.
One of the late Uya's associates, Dr Edwin Madunagu, said: "My reaction is not of a shock because, like many of us, he was not in excellent health for some time now.
"I know, philosophically, that such a thing could happen to any of us in that type of age bracket.
"But his passing on saddens me because the relationship I had with this man was the type of relationship I have with some frontline Nigerian statesmen.
"It was unique and unique in the sense that it is two-sided. One side he is seen and expected by the public, and the other is private.
"In summary, I will say Uya was a progressive and a socialist,'' he said.
Uya was born in Ukuko in the present Urue Offong/Oruko local government area of Akwa Ibom State, on 3 October 1942.
He was an academic of repute and spent over 30 years lecturing at the University of Calabar.
He became a full professor at age of 30 at the University of Wisconsin, Madison, USA in 1972, breaking the 120-year old record of the university by bagging both master's degree and doctorate in two years.
He held several traditional chieftaincy titles in his native Oron of Akwa Ibom State and in Efik ethnic group of Cross River State. He was Ikpoto Oro, the highest traditional title of the Oron people of Akwa Ibom State and Adaidahake Efik Eburutu, conferred on him by former Obong of Calabar, Edidem Prof. Elijah Henshaw.