Funsho Arogundade
Frontline politician and Afenifere chieftain, Senator Ayo Fasanmi, has urged fellow Yoruba leaders to forget their differences and close the ranks for the good of the Yoruba race and Nigeria as a whole.
Fasanmi made the call in Lagos on 17 April in his remark at the public presentation of the book: "Yoruba Elites and Ethnic Politics in Nigeria: Obafemi Awolowo and Corporate Agency", written by Professor Wale Adebanwi, an Associate Professor in African American and African Studies, University of California-Davis.
According to the second republic senator, this is the time for political differences that have existed among the Awoists and the entire Afenifere clan to be cleared.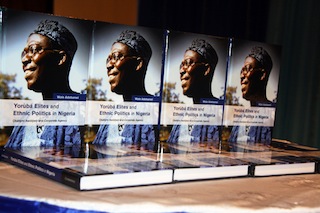 "At this auspicious time in our country, it is good we are having an occasion like this which brings many of us (Awolowo Associates) together. After a very long time, I am meeting friends like Sir Olanihun Ajayi and Chief Ayo Adebanjo. The event of today suggests to me that we need to forget our differences and close our ranks to move our race forward," he said.
Professor Ibrahim Agboola Gambari, former External Affairs minister, who was the chairman of the occasion, commended the author, Adebanwi, for coming up with the idea of the book.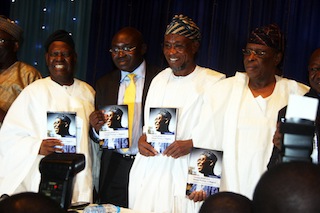 He noted that although the occasion was designed to celebrate Awolowo and Yoruba elites, it was also coming at a very critical period in the history of Nigeria, giving the growing challenges of insecurity and terrorism caused by Boko Haram.
Gambari explained that Nigerians have always shown complacency over certain global issues, thinking it will never happen here. He noted that they were wrong because problems like the terrorism are here with us.
He cautioned the political parties against brick bats and blame game, instead he charged them to come together to fashion a permanent solution to the issue.
The former diplomat, expressed pride in his dual heritage of Fulani father and Yoruba mother.
In the same vein, Chief (Mrs) HID Awolowo, who was represented by her daughter, Dr. Tokunbo Awolowo Dosunmu, identified the role of Yoruba as a stabiliser in the Nigerian polity.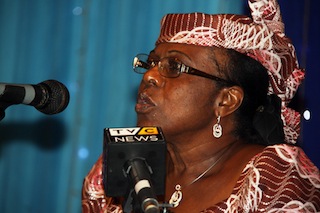 She enjoined the race not to shirk in this responsibility as the goings-on in the country affects everyone.
She also commended Adebanwi for his addition to the body of literature already written on the late sage, Obafemi Awolowo.
Asiwaju Bola Ahmed Tinubu, the All Progressives Congress, national leader, expressed his delight to be part of the celebration of the memory of Chief Awolowo.
In his short remark titled, "Renewing Awolowo's Vision And Remaking Nigeria", Tinubu stated that there cannot be a better moment in Nigeria's current political climate to celebrate and remember the lessons that, Chief Obafemi Awolowo, has taught Nigeria."
Kunle Ajibade, executive editor, TheNEWS/P.M.NEWS and the book reviewer, pointed out Adebanwi's rendition of the significance, the prestige, the influence and the messianic drama of Chief Awolowo's life.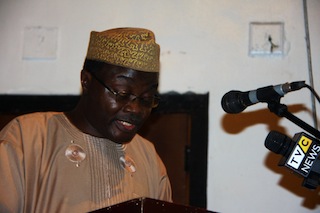 In his review titled, "The Genius of Obafemi Awolowo And The Contest For His Political Space", he noted that: "This book, in its first formulation, was his (Adebnwi) Ph.D thesis at the University of Cambridge. Adebanwi displays in it fireworks of theories especially in the introductory parts which may overwhelm the lay readers but will gladden the hearts of his academic peers immensely," Ajibade stated.
He then pointed out that Adebanwi's used other theories to propound his own: "These are theories that explain and describe Obafemi Awolowo as a peerless leader who kept the political promises he made. Theories that help to deepen our understanding of the Awolowo mystique, his phenomenon and charisma."
Other notable speakers included Ogbeni Rauf Aregbesola, Governor Osun state and the representatives of governors of Ogun, Ekiti and Lagos States.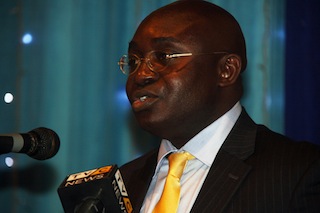 Adebanwi's book presentation, put together by The Obafemi Awolowo Foundation and Afenifere Renewal Group, also had in attendance Chief Bisi Akande, interim National Chairman, APC; Chief Olusegun Osoba; Alhaji Lateef Jakande; Senator Biyi Durojaiye; Senator Babafemi Ojudu; Alhaja Kudirat Aka Bashorun, Oba Dokun Abolarin; Odia Ofeimum and many media personalities.

Load more