A drone strike in south Yemen killed at least 30 suspected Al-Qaeda militants on Sunday, the latest in an intensified aerial campaign in the impoverished country, a tribal chief said.
The reported attack comes less than a week after Al-Qaeda in the Arabian Peninsula (AQAP) chief Nasser al-Wuhayshi pledged in a rare video appearance to fight Western "crusaders" everywhere.
An earlier toll said five militants had died in Sunday's attack which also wounded many others when it targeted a gathering of militants in the town of Al-Mahfad in Abyan province.
"More than 30 members of Al-Qaeda were killed and many others wounded," said the tribal chief.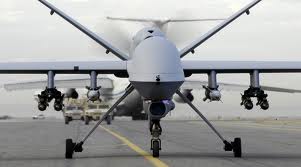 A statement on the 26sep.net defence ministry website said the attack on Al-Qaeda "training camps" killed "several" militants of various nationalities.
The United States is the only country that operates drones in Yemen, despite harsh criticism from rights groups.
Last month Yemeni President Abdrabuh Hadi Mansur defended the US use of drones against Al-Qaeda in his country, despite criticism from rights groups.
Drone strikes "have greatly helped in limiting Al-Qaeda activities, despite some mistakes which we are sorry about," Hadi told the pan-Arab Al-Hayat daily in an interview.
Hadi insisted that using traditional warplanes against the militants could cause "much bigger losses".
His comments had come after parliament — despite the limited powers it has — voted to ban drone strikes in response to attack in December that hit two separate wedding processions.
The United Nations had said 16 civilians were killed in those strikes.
On Saturday a drone strike in the central province of Baida killed 10 Al-Qaeda suspects and three civilians. Initial reports said 15 people had died.
The United States says the drone attacks are an essential part of its "war on terror" because it allows it to target Al-Qaeda without the use of ground forces in lawless areas, where authorities have no sway.
But rights watchdogs have criticised the drone programme in Yemen and other countries and repeatedly urged the US administration to investigate strikes in which civilians have been killed.
Last week AQAP chief Wuhayshi said in the video posted online Al-Qaeda will continue to press its "war against the crusaders… everywhere in the world", referring to Western powers.
Yemen is the ancestral home of Osama bin Laden and the home base of AQAP, which has been linked to a number of failed attacks on American soil.
The group has taken advantage of the weakening of Yemen's central government since the 2011 uprising that forced veteran president Ali Abdullah Saleh to step down after 33 years in power.