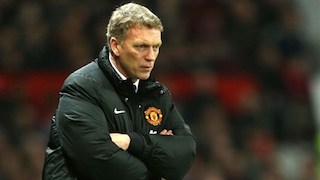 Under-fire Manchester United manager David Moyes has urged his players to restore the club's battered pride by winning their four remaining matches this season.
Speculation about Moyes's future intensified on Sunday following a 2-0 loss at Goodison Park to Everton, the Scot's former club, which condemned reigning champions United to their 11th defeat of the season.
Moyes was the chosen successor of former Manchester United boss Alex Ferguson-British football's most successful manager-following his retirement at the end of last season.
But that hasn't stopped him enduring a torrid first season at Old Trafford and United will only secure a place in next term's Europa League, European football's second-tier competition, if they overhaul a six-point gap between themselves and Tottenham.
Whether wins in their final four matches against Norwich, Sunderland, Hull and Southampton will be enough to stem the doubts of some United fans, remains to be seen.
However, defeats against a quartet of clubs United would once have been expected to beat comfortably will do little for Moyes's peace of mind.
"We need to end the season on a high," Moyes told MUTV, United's in-house television station, today.
"We want to finish by winning all of our games. We'll do everything we possibly can to make that happen."
Meanwhile Moyes received backing from Everton goalkeeper Tim Howard, who said the home fans at Goodison had been wrong to boo the club's former boss and when he emerged from the tunnel on Sunday and jeer him throughout the game.
"We have brilliant fans, but that was unfair on him," Howard said of Moyes, who spent 11 years as Everton manager.
"He was the second coming, the messiah 12 months ago, and I don't think as Evertonians we should ever forget that.
"I love David Moyes. I think he is a brilliant manager," said the American, who spent four years at United.
"He was (a brilliant manager) here for us and I will be forever grateful to him."
There was fresh uncertainty at United after reports emerged that forward Danny Welbeck is considering his future at the club following a lack of game time this season.
Meanwhile Juan Mata, United's club record £37.1 million ($61.2m, 44.8m euros) signing, apologised to fans for the team's performance at Goodison Park by writing on his personal blog: "I feel very disappointed.
"This is how you feel when you spend two weeks waiting for a game, getting ready for it, and then things don't go the way you wanted. It happened in Goodison Park and the truth is this is not the first time, as you know.
"I hate this feeling.
"What the Premiership table shows now is something that neither the club nor the fans deserve.
"I hope the next game comes as soon as possible because, as you can imagine, this bad taste makes me mad."
After Sunday's match, Moyes said "rank" and "rotten" defending had led to Everton's two goals, a penalty converted by Leighton Baines and Kevin Mirallas's shot from a tight angle.
It was a point emphasised by United's former Everton striker Wayne Rooney.
"We conceded two really sloppy goals which we need to cut out because we're making it hard for ourselves to get back into games," Rooney said.
"For the second one, we should have stopped the counter-attack. They ran in behind us. It's not good enough."