Timeline of how David Moyes' season at Manchester United went wrong following his sacking on Tuesday, 22 April: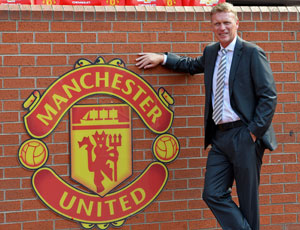 In 2013:
July 1: Moyes starts work as Manchester United manager after the retirement of Alex Ferguson.
September 1: Liverpool beat United 1-0 at Anfield, inflicting the first Premier League defeat under Moyes' leadership in his third league game in charge.
September 22: Manchester City hammer city rivals United 4-1. One week later lowly West Brom beat United at Old Trafford where they have not won in 35 years of trying.
December 4: Moyes former side Everton win 1-0 at Manchester United — a first victory at Old Trafford in 21 years.
December 6: Rio Ferdinand criticises Moyes' late team selection policy, saying on BT Sport: "It turns you into a madman."
In 2014
January 5 – Swansea win at Old Trafford for the first time, sending United out of the FA Cup at the third-round stage for only the second time in 30 years.
January 7 – Defeat in Capital One Cup semi-final first leg at Sunderland means a third straight loss for the first time since May 2001.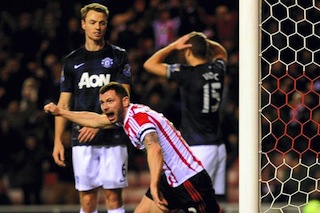 February 1 – Stoke end their long wait for a win against United. Charlie Adam's double gives them their first since 1984.
February 7: Veteran Serbian defender Nemanja Vidic announces he will leave United at the end of the season.
February 9 – United come from behind to lead bottom side Fulham at Old Trafford, but Darren Bent's stoppage-time equaliser grabs a 2-2 draw. Moyes describes the result as being "as bad as it gets".
February 25: In the Champions League last 16, United lose 2-0 at Olympiakos in Greece.
March 16: Two Steven Gerrard penalties and a Luis Suarez strike earn Liverpool a crushing 3-0 win at Old Trafford.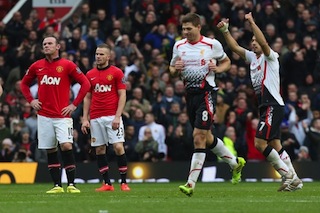 March 25: United lose 3-0 at home to Manchester City. The result meant United were guaranteed to end the season with their lowest points total in Premier League history.
April 9: Despite an encouraging 1-1 draw in the first leg, United go down 3-1 to title holders Bayern Munich in the second leg of their Champions League quarter-final in Munich.
April 20: Moyes' return to Everton becomes a nightmare. He is jeered by the crowd and United lose 2-0 — a club record 11th defeat in the Premier League. United cannot now qualify for the 2014-15 Champions League.