Golden Eaglets' Head coach, Emmanuel Amuneke, has warned his players to
be wary of Mali when they meet for the second time in a week at
the WAFU B Under-17 Tournament in Togo on Wednesday at the Stade
Municipal.
Nigeria and Mali were left in Group B following the withdrawal of Niger from the tournament and Wednesday's match slated for 3:00pm local time( 4:00pm Nigerian time) would determine who tops the group.'
Golden Eaglets had already recorded 2-0 win on Monday and would need
at least a draw to secure their position of the group with a chance of meeting Group A's runner-up in the semi-final on Friday.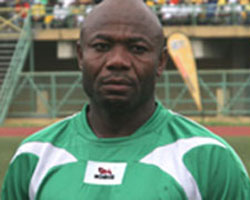 "The game on Monday gave us better ideas about the Malians and I must confess, they are a very good side," he said after Eaglets' training session on Tuesday.
"We had thought the Malians were going to parade big players like they did when we played them during the qualifiers for the 2013 African Championship in Morocco, but I'm quite impressed with the young boys they brought here."
The former African Footballer of the Year said his desire at the tournament is to win all his matches and has therefore warned his boys to expect a fight back from the Malians.
He said: "Of course, the game on Wednesday would be a total different
one because the Malians would want to avenge their defeat but we just have to consolidate our position.
Meanwhile, Amuneke has allayed fears of injury in the team after
some players suffered cramps during Monday's game, adding that all the 18
players would be available for selection.
"Such pains are normal and we should not forget that we have
prepared these boys under two weeks for the competition but we just finished training and every one of them is ready," he revealed.
"Again, this competition has given the players the opportunity to know what is demanded at this level and by the grace of God, they would be at their best against Mali on Wednesday."

Load more