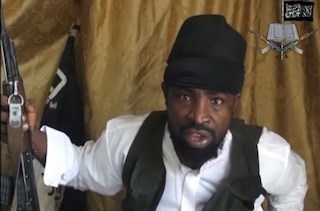 The fate of over 200 schoolgirls abducted by Boko Haram from their hostels at Government Girls Secondary School in Chibok, Borno State, northeast Nigeria, still hangs in the balance as the Islamist fighters have threatened to kill them if their parents do not stop the search for the girls.
One of the parents of the girls who disclosed this, said 200 of the parents had embarked on the search for the girls on motorcycles but were warned to stay away from Sambisa forest where Boko Haram has its camps or risk being killed along with the girls who were kidnapped on 14 April.
According to one of the parents, "We were over 200, but when we reached a point after crossing a rickety bridge, we were warned that though we were close to our daughters, any further advance would anger the suspected terrorists and they might kill us and our daughters. We had no option but to abandon the mission and return."
Parents have trekked through the bushlands of the remote region in a desperate search for their daughters, pooling money to buy fuel for motorcycles and cars. The Government Girls Secondary School principal, Asabe Kwambura, said she was working with parents to compile a complete registry of those taken hostage.
"A total of 230 names" were registered by parents, she said.
"So far, 43 girls have escaped on their own. We still have 187 missing."
Some of the girls who escaped have said the Islamists took the hostages to Borno's Sambisa Forest area, where Boko Haram is known to have well-fortified camps.
Locals re-issued a plea to Boko Haram to show mercy, but the Islamists, blamed for killing thousands across the region, have so far not commented on the abductions.
"We are appealing to Boko Haram to show mercy and release these girls," Chibok resident Haladu Sule told AFP.
"The people of Chibok will know no peace until they are freed."
The kidnapping came hours after the deadliest attack ever in Nigeria's capital, a bomb blast at a crowded bus station in Nyanya that killed at least 75 people. Boko Haram's leader Abubakar Shekau has claimed responsibility for that attack.
In an Easter message, President Goodluck Jonathan said Nigeria will 'overcome' the Islamist threat.
"God willing, we must bring Boko Haram to an end."