Governor Kayode Fayemi of Ekiti and APC gubernatorial candidate in the June 21 election, has dared his PDP counterpart, Ayodele Fayose, to a public debate.
Fayemi threw the challenge on Tuesday in Ikoro-Ekiti, said the debate would enable him counter the claims that academic standards have slid since he assumed office four years ago.
He said the debate would enable him to put the records straight on the allegation made by Fayose that education had not improved in the state beyond the point where Fayose stopped as governor.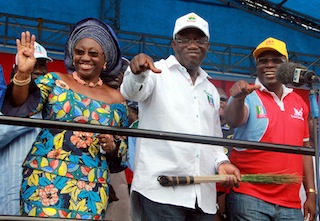 He said contrary to Fayose's claim that the state was now poorer in WAEC ranking; his administration had improved the level of students' performances in external examinations.
He added that his administration had also improved upon the welfare of teachers.
Fayemi reminded his political rival that he did not pick his Doctor of Philosophy degree on the street, saying he knew the value of education, having studied hard to acquire his.
He stressed that he came from educational background, studied hard and defended his thesis before earning the PhD.
"Go to the West African Examinations Council's office and check the trajectory. Go and see the records we have achieved in the last three years. Ekiti has produced good results consistently," he said.
"I don't deal with opinions, I deal with facts because facts are sacred, opinions are free; anybody can say what he/she likes. I challenge my good brother, Mr Ayo Fayose to a debate on the academic records when he was the governor and what obtains now that I am governor."
"You can check out the entire parameters. When he was governor, teachers were earning N7,500 minimum wage. There was no rural teachers' allowance. No core subjects allowance. No capacity building programme as we are doing presently."
The governor said that under his administration, the state had moved from the position of 217 on the web metric ranking to 17 in the entire country.
Addressing a rally in Ikere Ekiti on Monday, Fayose had said the state was ranked 8th in WAEC before he left office in 2006.
He expressed regrets that the standard had declined saying the state now occupied 35th out of the 36 states of the federation under the Fayemi-led administration.

Load more