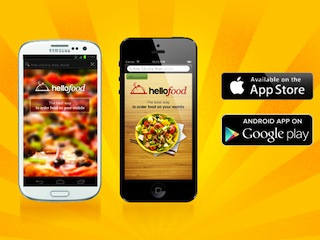 Online food ordering service Hellofood.com, founded by Africa Internet Holding (AIH), announced a partnership with Samsung at the launch of the new Samsung Galaxy S5 in Lagos.
As part of the Galaxy Gift Package, Hellofood has been selected as one of six apps that will be pre-installed on all Galaxy S5 devices for its users.
Emmanouil Revmatas, Samsung West Africa Director, endorsed Hellofood as "the fastest way to order food online from your favourite restaurants" and praised the simplicity of the service.
Hellofood allows users download the app, search for favourite restaurants in the area and then place an order. Your order will be delivered to your doorstep and you can pay cash on delivery to make the process even quicker and simpler.
Hellofood has enjoyed tremendous development in Africa to become the most popular food delivery app on the continent and this latest partnership demonstrates the huge consumer demand for high-quality and easy-to-use apps.
Having been operational in Nigeria for barely 18 months, Hellofood is already working with over 300 restaurants across several cities, including Lagos, Abuja and Port Harcourt.
"This latest partnership with Samsung is very exciting for us", said James Gibson, Managing Director of Hellofood Nigeria.
"Being featured within the Galaxy Gift Package will help us to extend our reach to an even wider audience, and we look forward to being able to provide a range of new customers with a convenient and easy way to order food online."
This latest partnership follows a global deal with Nokia to make the Hellofood app available on Nokia smartphones, as well as extensive pre-installation deals with 4 of the 5 top network operators in Africa.
Hellofood is fast redefining the food delivery industry as a mobile-driven experience that is continuing to grow at an impressive rate.

Load more