Asiwaju Bola Tinubu, national leader of the All Progressives Congress (APC) has declared Boko Haram the greatest enemy of Nigeria, saying his party abhorred it as any right-thinking Nigeria should.
He spoke at his investiture as the chancellor of the Ladoke Akintola University of Technology, Ogbomosho, the occasion at which he was also conferred with DSc (Honoris Causa) in management sciences.
"As for me and my party, we abhor them and their violent ways" he said of Boko Haram, "we have no part with them and they have no part with us."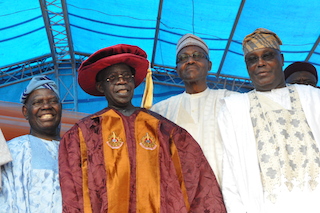 Boko Harm, he insisted, " has grown more brazen. Their mayhem has not abated. The tempo and consistency of their attacks show the government' s approach is not only tepid, it is wrong headed".
Tinubu called on Nigeria to use her strength to call a West Africa anti-terror summit abroad to forge a pan-West Africa anti-terror strategy while at home embracing a bi-partisan approach to which every political party will buy in and contribute.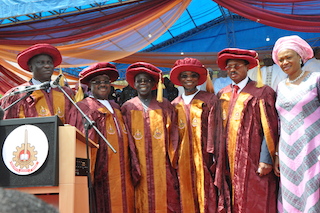 He was full of tribute to Basorun MKO Abiola, first chancellor of LAUTECH who later won the freest election in Nigerian history but whose mandate was annulled by reactionary forces.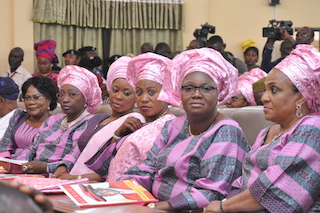 "Had he been allowed to govern," he said of Abiola, "the nation would be a better place. We march to fulfil his incomplete dream that the people may stand to lift the collective voice in calling forth a government of freedom, prosperity, dignity and justice.
Asiwaju commented on the futility of the recently "re-based" economy, saying it neither brought jobs to jobless youths nor electricity to households, but only a willful deceit by a failed government which nevertheless felt it could fool the people before the 2015 elections.