Cyriacus Izuekwe
Protest broke out this morning at Apapa Warf area of Lagos, southwest Nigeria  after a member of the National Union of Petrolum and Natural Gas, NUPENG, was shot dead by a suspected Naval officer.
The killing angered the NUPENG members who marched to the Sunrise bus stop under the bridge along Apapa expressway in protest.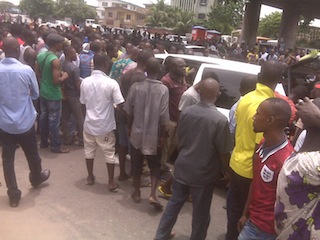 They used their trucks to block the busy road. This prevented vehicles from coming or going to Apapa.
Motorists could not ply that route for several hours and up till the time of filing this report. The traffic jam along Oshodi-Mile 2 axis of the highway was so severe that many commuters were stranded.
Those who attempted to the ply the route were not allowed and the angry NUPENG members threatened to destroy their vehicle.
The victim whose name was not yet ascertained was reportedly shot and he died on the spot early morning.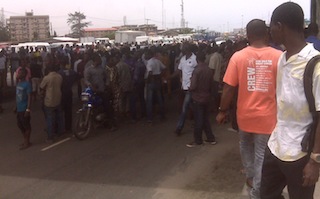 According an eye witness, "the Naval men came with their vehicle and demanded N500 for each tanker parked there. When they got to the victim, he told them that he had no money to give them. He was immediately shot and he died on the spot."
When members of NUPENG who arrived Apapa for work heard what happened, the stopped work and went to the expressway and blocked it in protest.
They were chanting war songs.
When our reporter visited the scene, there was huge crowd there and the victim's body was inside the NUPENG truck on the road.
There was no official response from the NUPENG officials and the security agents.
When our reporter contacted the Lagos State Police Command Public Relations Officer, Ngozi Braide, there was no response as her phone was switched off.
Also there was no security agent at the scene to prevent break down of law and order.