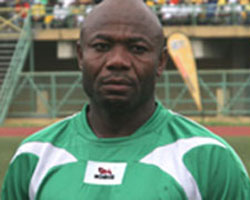 The Golden Eaglets failed to book a place in the final match of the WAFU B Tournament on Friday following a 3-1 penalty shoot-out loss to Republic of Benin after both sides played out a pulsating 1-1 draw.
Golden Eaglets' substitute, Suleiman Abdullahi cancelled Benin's Adaomu Nassiru early strike but either side failed to come up with a winner in the regulation and extra time.
Golden Eaglets started the game without injured midfielder Kingsley
Michael who was replaced by Dayo Femi. As early as the second minute, Femi was punished for ball-watching when fleet-footed Nassiru slipped past him to score the opening goal of the match.
Minutes later, the Eaglets had a chance to draw level but Joshua Auta's shot drifted wide.
The Nigerians were undeterred despite good possession of the ball by the Beninois and after a quarter of an hour, Orji Okonkwo latched on to a through pass from Kehinde Ayinde. The striker out-paced two defenders and shot straight into the net but his joy of grabbing an equalizer was short-lived by Nigerien referee, Lalidia Souleymane who ruled otherwise.
Jack Ipalibo also went close in the 37th minute when he darted past Beninois defenders but his finishing lacked accuracy. As the first half drew to an end, the Eaglets were twice saved by the bar in the 42nd and 44th minute.
In the second half, Coach Emmanuel Amuneke introduced Suleiman
Abdullahi for Femi and his inclusion brought some order to the Nigerian midfield.
The Golden Eaglets' skipper, Kelechi Nwakali was hacked down in the box in the 63rd minute but referee Souleymane did not call for any infringement.
But Abdullahi finally got the equalizer for the Eaglets in the 68th minute when he scrambled the ball into the net off a corner kick.
The match could not produce a winner even after 30 minutes of extra-time and the Beninois triumphed in the ensuing penalty shootout.
The Eaglets would now face the loser of the second semi-final match between Mali and hosts, Togo on Sunday.
In attendance at the match were Nigeria's High Commissioner to Togo,
Ambassador Mathew Sunday Adoli; his Benin counterpart, Lawrence
Olufemi Obisakin and his wife; Alhaji Yussuf Fresh, a board member of
Nigeria Football Federation, NFF; leader of Togolese delegation, Mr. Patrick Pascal; (special assistant to NFF's President, Alhaji Aminu Maigari) amongst others.