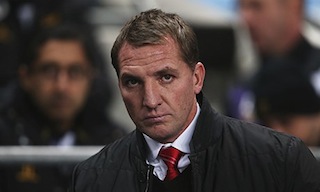 Frustrated Liverpool manager Brendan Rodgers accused Chelsea of time-wasting and defensive tactics after his side's Premier League title challenge was compromised by a 2-0 home defeat on Sunday.
Liverpool could have ended Chelsea's title bid with victory at Anfield, but goals in injury time at the end of each half from Demba Ba and Willian enabled the London club to close to within two points of the leaders.
The visitors employed delaying tactics from the start, riling the home crowd, and manager Jose Mourinho instructed his side to mass 10 players behind the ball whenever Liverpool had possession.
While stopping short of directly criticising Mourinho, under whom he worked as a youth and reserve-team coach at Chelsea, Rodgers made clear his disregard for his former mentor's approach.
Employing a metaphor about defensive teams introduced to the English football lexicon by Mourinho, he said: "They sat in really deep. There was probably two buses parked today, rather than one.
"It's the style of football, it's a defensive style. It's the polar opposite to how we work. If it gets results, great. Jose's got his result today, and he'll be happy with that.
"It's not difficult to coach, to just get 10 players right on your 18-yard box, but it's obviously much harder to break through it. As I said, they defended well."
On Chelsea's spoiling tactics, he added: "It was disappointing. I think they got booked for time-wasting in the 92nd minute, but everyone could see from the first whistle that was clearly the plan, to frustrate.
"But teams will work in a different way. We're a team that try to win the game in a sporting manner, try to work, try to initiate the game with the ball. Today it just wasn't to be for us.
"Whether it was time-wasting, whether it was defensive, it doesn't matter. We lost the game and we'll move now onto the next game."
Steven Gerrard was at fault for the first goal, slipping and conceding possession to Ba, who ran through and scored, but Rodgers absolved his captain of any blame.
"I said at half-time, this is a boy that's picked up this club so many times," Rodgers said.
"It was just really unfortunate he slipped at a crucial moment, right on half-time. But he was doing everything he possibly could today.
"We hoped that there was maybe one or two that could maybe step up to the plate instead of him. We just couldn't quite do that today, for the team and for him in particular.
"But there's certainly no blame, because we're in the position that we're in because of him. He's been instrumental for us this season and it's just unfortunate that he's slipped over. It could have happened to anyone."
With characteristic bullishness, Mourinho claimed that "the best team won" and gave short shrift to suggestions that his side had indulged in time-wasting.
"Time-wasting? What's that?" he asked reporters during the post-match press conference.
"We never spoke about this when we played lots of matches during the season and now you are speaking about it. Only today you were aware of that?"
Chelsea can provisionally go top if they win at home to Norwich City next Sunday, with Liverpool not in action until the following day, but Mourinho played down his side's chances of winning the league.
"Now we can say we won both matches against the champions," the Portuguese said. "If it's Liverpool, we won both. If it's Man City, we won both.
"With these three points we need one point to finish third. It was a good season for us and an evolution in many aspects of this team. The champions will be City or Liverpool, so we have nothing to celebrate.