Desperate moves by embattled Minister of Petroleum Resources, Mrs. Diezani Alison-Madueke to thwart the impending probe of a controversial N10 billion aircraft charter scam rocking the Nigeria National Petroleum Company, NNPC, have collapsed.
The minister, alongside the NNPC had approached a Federal High Court sitting in Abuja seeking to stop their appearance before the House Representatives' Committee on Public Accounts which is investigating the aircraft charter scam.
The court presided over by Justice Ramat Mohammed, declined the application for an interim injunction to stop the Public Accounts Committee from inviting the minister and the national oil company in connection with its investigations over the issue.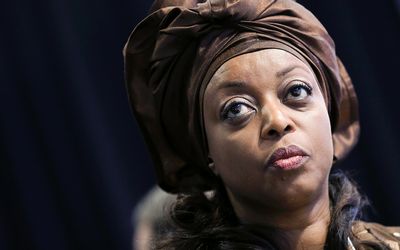 The court however directed the House of Representatives to appear before it and show cause why the interim orders being sought by the minister should not be granted and ordered that court documents on the minister's application be served on the National Assembly to necessitate the appearance of the House of Representatives.
Madueke had through her lawyer, Mr. Etigwe Uwa, a senior advocate of Nigeria, sought for an order of interim injunction restraining the National Assembly and the House of Reps and their committees from summoning her and asked the court to restrain them from asking her to produce any papers, notes or other documents before them.
Furthermore, the minister asked the court to stop the National Assembly and the House of Reps from issuing a warrant to compel her attendance before them with regard to the investigative public hearing on her lease of aircraft pending the hearing and determination of the motion on notice or for an order of status quo directing the parties to maintain the current position as at the date of filing the suit.
However, none of these orders was granted.