Eromosele Ebhomele
Fifteen occupants of a commercial bus and two cars Tuesday morning escaped death at the Toll Gate on Lagos-Abeokuta Expressway when the driver of a truck, fully loaded with packs of Fayrouz drink lost control of the vehicle and rammed into them.
The victims were however rescued and rushed to the hospital by officials of the Federal Road Safety Corps, FRSC, as well as commuters waiting for vehicles to their various destinations when the incident occurred.
All the affected vehicles were said to be coming from the Sango end when the truck with registration number EZA 486 ZA suddenly lost its breaks and crushed the other, a bus with registration number Lagos XX321APP, a silver-coloured Mazda with registration: Lagos SMK521AU, and a gold-coloured Nissan Maxima with registration: Lagos FST 484 BZ.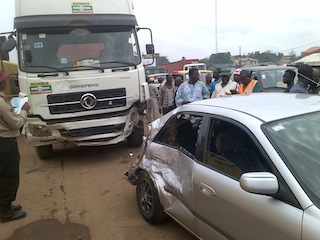 It was learnt that immediately the accident occurred, the driver of the truck escaped but was later caught by an official of the Federal Road Safety Corps, FRSC, who chased him.
At the time of this report, the driver had been detained at the FRSC office at the Toll Gate in Sango, Ogun State.
An official of the Federal Road Safety Corps told P.M.NEWS that the truck driver was at fault.
"The issue had to do with recklessness and the driver of the truck knew what he had done. That's why he wanted to escape," he said.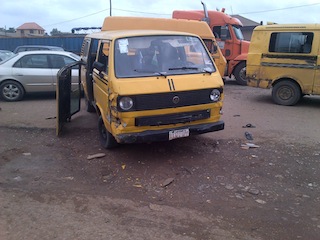 The official said he could not confirm any casualty but added that some of the passengers in the bus were badly injured and rushed to a hospital.
While many at the scene betrayed emotions, some called on the government to rescue road users and commuters passing through the area daily.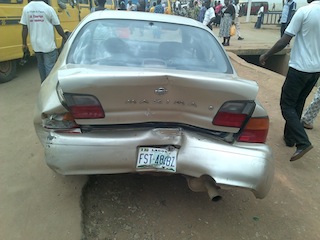 This year alone, there had been up to five major accidents around the Toll Gate. Last week, a truck loaded with beverages reportedly crushed a car killing the driver and a pregnant woman.